Humboldt State University
11 Alums took the salary survey
HSU Alumni Salary over Time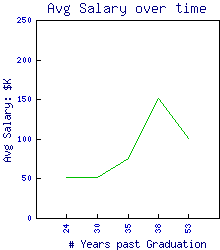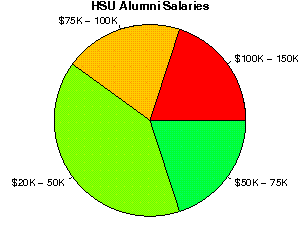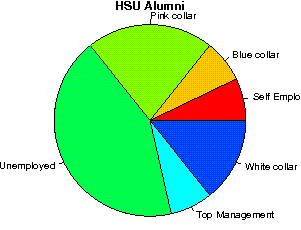 Said that HSU contributed
| | |
| --- | --- |
| 36.36% | 75-100% to their career success |
| 36.36% | 50-75% to their career success |
| 9.09% | 25-50% to their career success |
| 18.18% | 0-25% to their career success |
Had the employment status
| | |
| --- | --- |
| 9.09% | Self Employed |
| 9.09% | Top Management |
| 9.09% | White Collar workers |
| 18.18% | Pink Collar workers |
| 9.09% | Blue Collar workers |
| 0.00% | Entry Level employees |
| 45.45% | Unemployed. |
Life Satisfaction
| | |
| --- | --- |
| 72.73% | Are satisfied with their current job. |
| 72.73% | Said things are generally going well. |
| 72.73% | Are still in the field they majored in in college. |
Reputation & Preparedness
| | |
| --- | --- |
| Help from Reputation | 5.2 |
| Preparedness for Real world | 6.1 |
Most Frequently mentioned Graduate Jobs

Of (6), Ca (6), Div (5), Geologist (5), Teacher (5),
% went on to Graduate or Professional Ed.
50%
"
... In retrospect, I don't think that ANY college program that focuses on theory and methods can prepare a teacher for the "real world," however ...
Read full comment
"
... A very unique experience but dont feel i got the education i needed to prepare me for the real world - humboldt is not the real world ...
Read full comment
"
... While working for the US Forest Service over my breaks I have repeatedly been informed by my employers that Humboldt State is NOT very prestigiou...
Read full comment
"
... If it is early in your college career and you still have a chance to transfer and travel around, give this college a shot for a year for your...
Read full comment
"
... Arcata will always be my adopted hometown and wish I could visit more often but my career took me to the east coast, oh well ...
Read full comment
"
... The classes are hands on and I learn skills I need for my career ...
Read full comment
"
... In my undergraduate career, I spent nearly 100 hours in elementary classrooms getting hands-on experience working with students and teachers ...
Read full comment