The Illinois Institute of Technology
18 Alums took the salary survey
IIT Alumni Salary over Time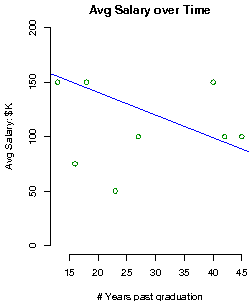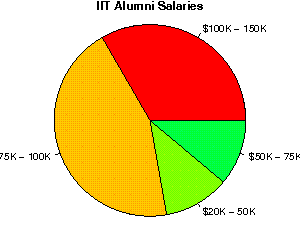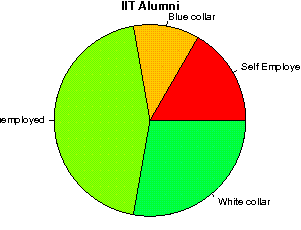 Said that IIT contributed
| | |
| --- | --- |
| 11.11% | 75-100% to their career success |
| 33.33% | 50-75% to their career success |
| 22.22% | 25-50% to their career success |
| 33.33% | 0-25% to their career success |
Had the employment status
| | |
| --- | --- |
| 16.67% | Self Employed |
| 0.00% | Top Management |
| 27.78% | White Collar workers |
| 0.00% | Pink Collar workers |
| 11.11% | Blue Collar workers |
| 0.00% | Entry Level employees |
| 44.44% | Unemployed. |
Life Satisfaction
| | |
| --- | --- |
| 44.44% | Are satisfied with their current job. |
| 77.78% | Said things are generally going well. |
| 44.44% | Are still in the field they majored in in college. |
Reputation & Preparedness
| | |
| --- | --- |
| Help from Reputation | 4.3 |
| Preparedness for Real world | 4.5 |
Most Frequently mentioned Graduate Jobs

Engineer (9), Software (8), Manager (4), Project (4), Senior (3),
% went on to Graduate or Professional Ed.
20%
"
... But before I lose the point of me writing this comment, I would like to say IIT is a great place to be for a great education, for life experien...
Read full comment
"
... There are a lot of opportunities to learn and pursue interests that can springboard a student into a successful career ...
Read full comment
"
... Either you come to IIT to sacrifice 4 years of your life and have a great career later or you just go somewhere else and try to make it there som...
Read full comment
"
... which provide you skills that will help you succeed in the real world (these things sometimes count more than your books) ...
Read full comment
"
... I'm still upset that I had to pay for that class, and that it contributed it to his salary ...
Read full comment
"
... iTech is a "speciality" technical school that is purely technically career oriented school; problem, in the "legitimate" majors your professors ow...
Read full comment