16 Alums took the salary survey
Ithaca Alumni Salary over Time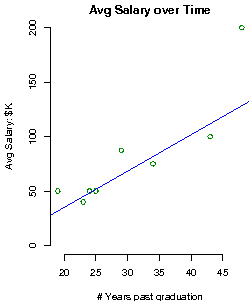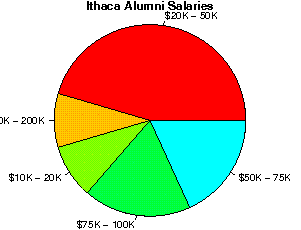 Said that Ithaca contributed
| | |
| --- | --- |
| 25.00% | 75-100% to their career success |
| 25.00% | 50-75% to their career success |
| 18.75% | 25-50% to their career success |
| 31.25% | 0-25% to their career success |
Had the employment status
| | |
| --- | --- |
| 6.25% | Self Employed |
| 6.25% | Top Management |
| 37.50% | White Collar workers |
| 12.50% | Pink Collar workers |
| 0.00% | Blue Collar workers |
| 6.25% | Entry Level employees |
| 31.25% | Unemployed. |
Life Satisfaction
| | |
| --- | --- |
| 68.75% | Are satisfied with their current job. |
| 75.00% | Said things are generally going well. |
| 43.75% | Are still in the field they majored in in college. |
Reputation & Preparedness
| | |
| --- | --- |
| Help from Reputation | 5.4 |
| Preparedness for Real world | 5.8 |
Most Frequently mentioned Graduate Jobs

Assistant (5), Director (5), Editor (4), Manager (3), Magazine (3),
% went on to Graduate or Professional Ed.
37.5%
"
... ) I decided to transfer out of Ithaca to place where yes I may have less friends (because it was really easy to make friends and have a real f...
Read full comment
"
... The college provides a lot of resources like a career services office which can help you plan for your future or even practice interviewing s...
Read full comment
"
... The school keeps in close contact with its alumni so that current students have accessible networks to find internships and employment ...
Read full comment
"
... A lot of students are the type who do community service activities just for the resume ...
Read full comment
"
... I am graduating in a month and I don't want to leave, however I do feel like I have learned a great deal and am ready for the 'real world'...
Read full comment
"
... Needless to say, IC did not challenge me or further prepare me for a career in design (and again, careful with the use of the word 'design', they...
Read full comment