Illinois Wesleyan University
7 Alums took the salary survey
IWU Alumni Salary over Time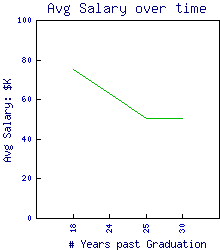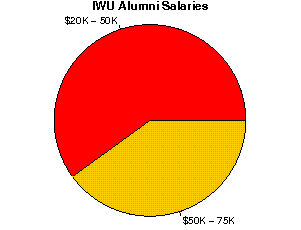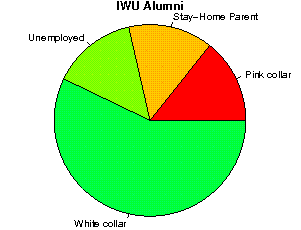 Said that IWU contributed
| | |
| --- | --- |
| 14.29% | 75-100% to their career success |
| 71.43% | 50-75% to their career success |
| 14.29% | 25-50% to their career success |
| 0.00% | 0-25% to their career success |
Had the employment status
| | |
| --- | --- |
| 0.00% | Self Employed |
| 0.00% | Top Management |
| 57.14% | White Collar workers |
| 14.29% | Pink Collar workers |
| 0.00% | Blue Collar workers |
| 0.00% | Entry Level employees |
| 14.29% | Unemployed. |
Life Satisfaction
| | |
| --- | --- |
| 100.00% | Are satisfied with their current job. |
| 100.00% | Said things are generally going well. |
| 71.43% | Are still in the field they majored in in college. |
Reputation & Preparedness
| | |
| --- | --- |
| Help from Reputation | 7.3 |
| Preparedness for Real world | 7.8 |
Most Frequently mentioned Graduate Jobs

Accountant (2), Receivable (1), Accounts (1), Clerk (1), Occupational (1),
% went on to Graduate or Professional Ed.
28.6%
"
... The administration is somewhat aloof and unresponsive to the needs of special-needs students (more so religious and gender minority members like...
Read full comment
"
... I wish I had used the career services more, and the name of the school doesn't carry well to the East Coast where I moved after graduation ...
Read full comment
"
... It has the possibility to be a sheltered and stagnant four years that won't expose you to the real world what so ever ...
Read full comment
"
... Especially in the Psychology department, there are dozens of oppurtunities for undergrad research, which is something that makes you stand out...
Read full comment