41 Alums took the salary survey
Kalamazoo Alumni Salary over Time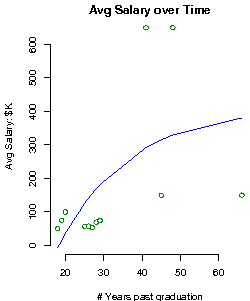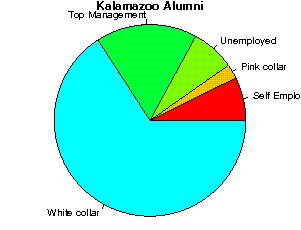 Said that Kalamazoo contributed
| | |
| --- | --- |
| 65.85% | 75-100% to their career success |
| 26.83% | 50-75% to their career success |
| 2.44% | 25-50% to their career success |
| 4.88% | 0-25% to their career success |
Had the employment status
| | |
| --- | --- |
| 7.32% | Self Employed |
| 17.07% | Top Management |
| 65.85% | White Collar workers |
| 2.44% | Pink Collar workers |
| 0.00% | Blue Collar workers |
| 0.00% | Entry Level employees |
| 7.32% | Unemployed. |
Life Satisfaction
| | |
| --- | --- |
| 92.68% | Are satisfied with their current job. |
| 92.68% | Said things are generally going well. |
| 82.93% | Are still in the field they majored in in college. |
Reputation & Preparedness
| | |
| --- | --- |
| Help from Reputation | 7.1 |
| Preparedness for Real world | 7.9 |
Most Frequently mentioned Graduate Jobs

Manager (12), For (6), Side (6), Trader (6), Research (5),
% went on to Graduate or Professional Ed.
51.2%
"
... The generally small class sizes, the K academic plan (foreign study, career development, senior thesis project, etc ...
Read full comment
"
... Such as, yeah we have lots of internship opportunites at the Career Development Center ...
Read full comment
"
... Instead, I was given the opportunity through 'K's liberal arts curriculum, career development and foreign study program to get a taste of every ...
Read full comment
"
... It is a difficult economy to find work in and unless you have a degree in a field that is in demand, a liberal arts education does not help you ...
Read full comment
"
... Internships allow you to learn what the "real world" is about while building relationships with perspective employers ...
Read full comment