24 Alums took the salary survey
Messiah Alumni Salary over Time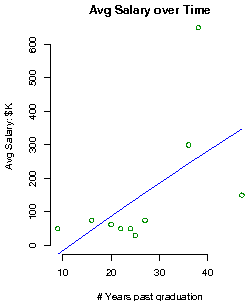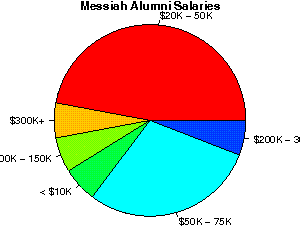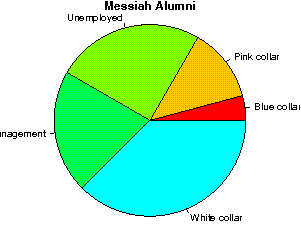 Said that Messiah contributed
| | |
| --- | --- |
| 33.33% | 75-100% to their career success |
| 16.67% | 50-75% to their career success |
| 16.67% | 25-50% to their career success |
| 33.33% | 0-25% to their career success |
Had the employment status
| | |
| --- | --- |
| 0.00% | Self Employed |
| 20.83% | Top Management |
| 37.50% | White Collar workers |
| 12.50% | Pink Collar workers |
| 4.17% | Blue Collar workers |
| 0.00% | Entry Level employees |
| 25.00% | Unemployed. |
Life Satisfaction
| | |
| --- | --- |
| 87.50% | Are satisfied with their current job. |
| 87.50% | Said things are generally going well. |
| 54.17% | Are still in the field they majored in in college. |
Reputation & Preparedness
| | |
| --- | --- |
| Help from Reputation | 5.7 |
| Preparedness for Real world | 8.4 |
Most Frequently mentioned Graduate Jobs

Director (9), Associate (8), Teacher (5), Assistant (5), Admissions (4),
% went on to Graduate or Professional Ed.
25%
"
... For example, in my theology gen-ed, I had to memorize statistics for European countries' religion even though there is no reason why I should app...
Read full comment
"
... People: Messiah College students are notorious for having good character, and employers recognize this ...
Read full comment
"
... All of them loved their experiences and feel they were prepared for the first steps in their careers ...
Read full comment
"
... If you are a parent reading this and do not want your child to experience the joys of the real world, send your child her ...
Read full comment
"
... The professors actually encourage the students to work on real world projects with real world constraints ...
Read full comment