North Carolina State University - Raleigh
28 Alums took the salary survey
NCSU-Raleigh Alumni Salary over Time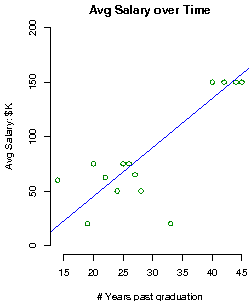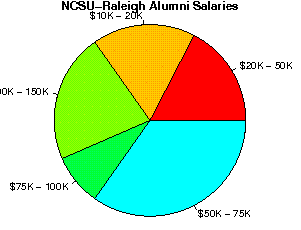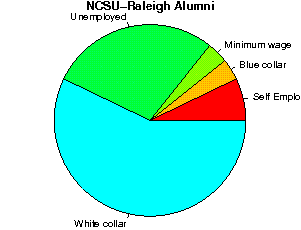 Said that NCSU-Raleigh contributed
| | |
| --- | --- |
| 42.86% | 75-100% to their career success |
| 21.43% | 50-75% to their career success |
| 0.00% | 25-50% to their career success |
| 35.71% | 0-25% to their career success |
Had the employment status
| | |
| --- | --- |
| 7.14% | Self Employed |
| 0.00% | Top Management |
| 57.14% | White Collar workers |
| 0.00% | Pink Collar workers |
| 3.57% | Blue Collar workers |
| 3.57% | Entry Level employees |
| 28.57% | Unemployed. |
Life Satisfaction
| | |
| --- | --- |
| 75.00% | Are satisfied with their current job. |
| 71.43% | Said things are generally going well. |
| 64.29% | Are still in the field they majored in in college. |
Reputation & Preparedness
| | |
| --- | --- |
| Help from Reputation | 6.1 |
| Preparedness for Real world | 5.7 |
Most Frequently mentioned Graduate Jobs

Engineer (14), Manager (12), Assistant (5), Process (5), Director (5),
% went on to Graduate or Professional Ed.
30.4%
"
... The career fairs here are one of the largest in the nation, so you have a lot of opportunities, and the school has a very good reputation with a ...
Read full comment
"
... I have been in the Army since I graduated and am now at Graduate School at Georgetown University, obviously the NC State Degree did not hinder an...
Read full comment
"
... Truly, I was surprised at the difference in the two schools as I myself had presumed State would be more rigorous and I found the opposite, at le...
Read full comment
"
... For anyone that is going to be attending any college it is pertinent that you remain focus throughout your educational career ...
Read full comment
"
... I graduated prepared to work becuase potential employers had confidence I was trainable ...
Read full comment