North Dakota State University
10 Alums took the salary survey
NDSU Alumni Salary over Time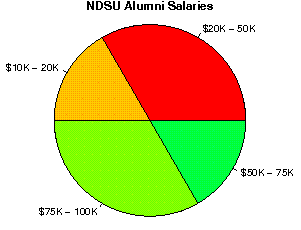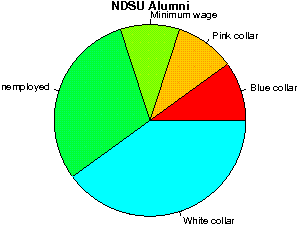 Said that NDSU contributed
| | |
| --- | --- |
| 20.00% | 75-100% to their career success |
| 30.00% | 50-75% to their career success |
| 30.00% | 25-50% to their career success |
| 20.00% | 0-25% to their career success |
Had the employment status
| | |
| --- | --- |
| 0.00% | Self Employed |
| 0.00% | Top Management |
| 40.00% | White Collar workers |
| 10.00% | Pink Collar workers |
| 10.00% | Blue Collar workers |
| 10.00% | Entry Level employees |
| 30.00% | Unemployed. |
Life Satisfaction
| | |
| --- | --- |
| 70.00% | Are satisfied with their current job. |
| 90.00% | Said things are generally going well. |
| 50.00% | Are still in the field they majored in in college. |
Reputation & Preparedness
| | |
| --- | --- |
| Help from Reputation | 3.7 |
| Preparedness for Real world | 6.1 |
Most Frequently mentioned Graduate Jobs

Manager (5), Assistant (4), Secretary (3), Industrial (2), Engineer (2),
% went on to Graduate or Professional Ed.
0%
"
... Some may say that is the way the real world is but the difference is that you dont have your black family or friends to come home to every night ...
Read full comment
"
... The opportunities, (ranging from organizations, undergraduate research, employment, networking) are unbelievable and accessible to all students ....
Read full comment
"
... Other: Basically the key is to get involved, if you do not you surely will not like your collegiate career as much as you could ...
Read full comment