27 Alums took the salary survey
Oakwood Alumni Salary over Time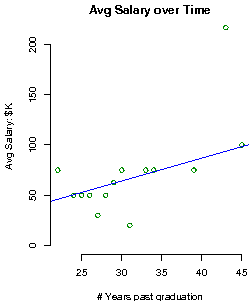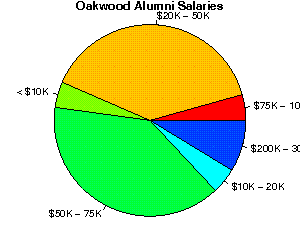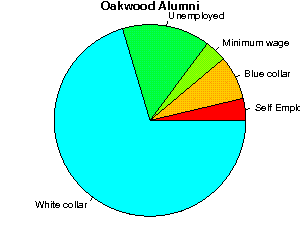 Said that Oakwood contributed
| | |
| --- | --- |
| 37.04% | 75-100% to their career success |
| 29.63% | 50-75% to their career success |
| 14.81% | 25-50% to their career success |
| 18.52% | 0-25% to their career success |
Had the employment status
| | |
| --- | --- |
| 3.70% | Self Employed |
| 0.00% | Top Management |
| 70.37% | White Collar workers |
| 0.00% | Pink Collar workers |
| 7.41% | Blue Collar workers |
| 3.70% | Entry Level employees |
| 14.81% | Unemployed. |
Life Satisfaction
| | |
| --- | --- |
| 62.96% | Are satisfied with their current job. |
| 96.30% | Said things are generally going well. |
| 62.96% | Are still in the field they majored in in college. |
Reputation & Preparedness
| | |
| --- | --- |
| Help from Reputation | 5.5 |
| Preparedness for Real world | 7 |
Most Frequently mentioned Graduate Jobs

Teacher (10), Nurse (4), Support (4), Medical (4), Specialist (3),
% went on to Graduate or Professional Ed.
74.1%
"
... Without it, I would not be in the position or career presently being persued ...
Read full comment
"
... Oakwood gives you a strong foundation on which to build and develop the skills you need to make it in the real world ...
Read full comment
"
... I would say to make sure you get the right information that you need BEFORE you go to college, in terms of your choice of career ...
Read full comment
"
... Oh, I failed to mention most of there credits are non-transferable, so unless you want to start your college career all over at a new school, don...
Read full comment