19 Alums took the salary survey
Occidental Alumni Salary over Time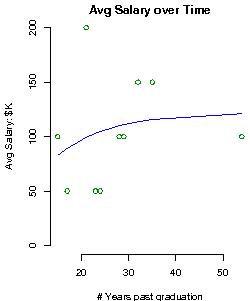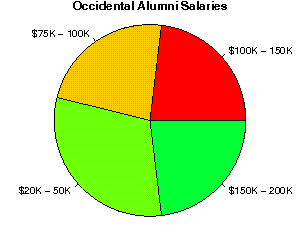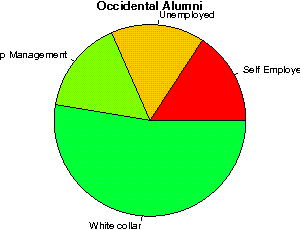 Said that Occidental contributed
| | |
| --- | --- |
| 26.32% | 75-100% to their career success |
| 26.32% | 50-75% to their career success |
| 15.79% | 25-50% to their career success |
| 31.58% | 0-25% to their career success |
Had the employment status
| | |
| --- | --- |
| 15.79% | Self Employed |
| 15.79% | Top Management |
| 52.63% | White Collar workers |
| 0.00% | Pink Collar workers |
| 0.00% | Blue Collar workers |
| 0.00% | Entry Level employees |
| 15.79% | Unemployed. |
Life Satisfaction
| | |
| --- | --- |
| 84.21% | Are satisfied with their current job. |
| 78.95% | Said things are generally going well. |
| 36.84% | Are still in the field they majored in in college. |
Reputation & Preparedness
| | |
| --- | --- |
| Help from Reputation | 6.1 |
| Preparedness for Real world | 6.9 |
Most Frequently mentioned Graduate Jobs

Professor (9), At (9), Of (6), University (6), Assistant (5),
% went on to Graduate or Professional Ed.
52.6%
"
... Pros: The Senior Comp project, if fully taken advantage of, should provide you with a real accomplishment that you can tout to potential em...
Read full comment
"
... You are also matched up with an academic advisor during Orientation - a professor in your estimated major (whom you may change if you change majo...
Read full comment
"
... are self absorbed and are only interested in furthering their careers because they went to prestigious schools to get their Ph'ds (Oxy's econ dep...
Read full comment
"
... If you are looking for a college that offers a major that connects directly to a career path(engineering, Pre-law, Communications/marketing), th...
Read full comment
"
... The career center is not putting any effort on trying to get companies to recruit people on campus ...
Read full comment