7 Alums took the salary survey
Oglethorpe Alumni Salary over Time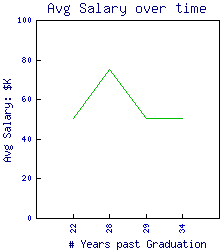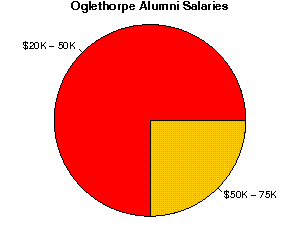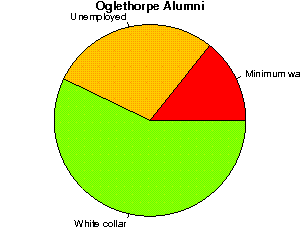 Said that Oglethorpe contributed
| | |
| --- | --- |
| 28.57% | 75-100% to their career success |
| 28.57% | 50-75% to their career success |
| 0.00% | 25-50% to their career success |
| 42.86% | 0-25% to their career success |
Had the employment status
| | |
| --- | --- |
| 0.00% | Self Employed |
| 0.00% | Top Management |
| 57.14% | White Collar workers |
| 0.00% | Pink Collar workers |
| 0.00% | Blue Collar workers |
| 14.29% | Entry Level employees |
| 28.57% | Unemployed. |
Life Satisfaction
| | |
| --- | --- |
| 85.71% | Are satisfied with their current job. |
| 85.71% | Said things are generally going well. |
| 57.14% | Are still in the field they majored in in college. |
Reputation & Preparedness
| | |
| --- | --- |
| Help from Reputation | 4 |
| Preparedness for Real world | 6.7 |
Most Frequently mentioned Graduate Jobs

Teacher (4), Manager (3), Systems (2), Retail (2), Engineer (2),
% went on to Graduate or Professional Ed.
71.4%
"
... Grades won't get things handed to you--like anything else in life, connections and a strong resume will get you places here--and that emphasis on...
Read full comment
"
... No one has ever heard of it, doesn't look good on a resume, BORING social scene - I really wish I had not gone there ...
Read full comment
"
... They were interesting, but not practical towards anything in relation to preparing me for the job market and "the real world ...
Read full comment
"
... the office of career affairs will help you get internships in your desired field and get you into the working world by junior year ...
Read full comment
"
... Additionally, the CORE curriculum here does not transfer out anywhere, so you literally lose 40 credit hours over the course of your college care...
Read full comment