29 Alums took the salary survey
OWU Alumni Salary over Time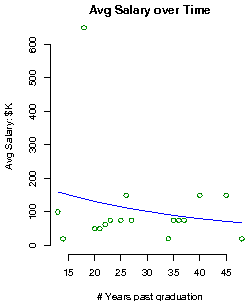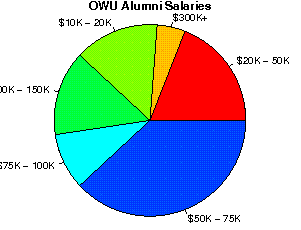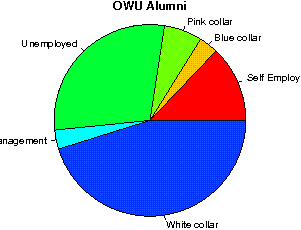 Said that OWU contributed
| | |
| --- | --- |
| 55.17% | 75-100% to their career success |
| 20.69% | 50-75% to their career success |
| 3.45% | 25-50% to their career success |
| 20.69% | 0-25% to their career success |
Had the employment status
| | |
| --- | --- |
| 13.79% | Self Employed |
| 3.45% | Top Management |
| 48.28% | White Collar workers |
| 6.90% | Pink Collar workers |
| 0.00% | Blue Collar workers |
| 0.00% | Entry Level employees |
| 27.59% | Unemployed. |
| | |
| --- | --- |
| 82.76% | Are satisfied with their current job. |
| 82.76% | Said things are generally going well. |
| 65.52% | Are still in the field they majored in in college. |
Reputation & Preparedness
| | |
| --- | --- |
| Help from Reputation | 6 |
| Preparedness for Real world | 7.1 |
Most Frequently mentioned Graduate Jobs

Editor (5), Writer (4), Manager (4), Director (4), Web (3),
% went on to Graduate or Professional Ed.
72.4%
"
... Everything about this entire school is mediocre: the professors are OK, the social scene is OK, the career goals everyone has are ok ...
Read full comment
"
... The simple truth is I've never second-guessed my choice, and find the educational and personal foundation granted me by OWU has become the corner...
Read full comment
"
... What makes Ohio Wesleyan a beautiful place to live, work, and learn is this element of community; while it may not be realistic to expect to live...
Read full comment
"
... The education at this school is rigourous, I found myself much better prepared than many others in graduate school, OWU's weaknes where it lay was...
Read full comment
"
... For instance, upon learning where I had attended undergrad, a professor at the Princeton's Woodrow Wilson School of Public and International Affa...
Read full comment
"
... Huddleston's academic specialty is public administration, a field in which he has published widely, focusing on the senior federal career ser...
Read full comment