The University of Waterloo (Canada)
4 Alums took the salary survey
UW Alumni Salary over Time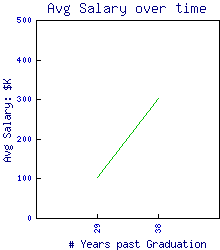 Said that UW contributed
| | |
| --- | --- |
| 0.00% | 75-100% to their career success |
| 0.00% | 50-75% to their career success |
| 25.00% | 25-50% to their career success |
| 75.00% | 0-25% to their career success |
Had the employment status
| | |
| --- | --- |
| 25.00% | Self Employed |
| 0.00% | Top Management |
| 0.00% | White Collar workers |
| 0.00% | Pink Collar workers |
| 25.00% | Blue Collar workers |
| 0.00% | Entry Level employees |
| 50.00% | Unemployed. |
| | |
| --- | --- |
| 25.00% | Are satisfied with their current job. |
| 25.00% | Said things are generally going well. |
| 25.00% | Are still in the field they majored in in college. |
Reputation & Preparedness
| | |
| --- | --- |
| Help from Reputation | 2.5 |
| Preparedness for Real world | 2.8 |
Most Frequently mentioned Graduate Jobs

Nations (1), United (1), Rep (1), Board (1), Member (1),
% went on to Graduate or Professional Ed.
25%
"
... Its a know fact that canadian employers throw away applications with non-white sounding names and dont give a damn if the person doesnt have a ca...
Read full comment
"
... You can calculate things all day every day but it will never be equal to a real life test and what engineers make needs to be useful in the real ...
Read full comment
"
... " or "You need to edit your resume, you should use Aerial font size 12 instead of Times New Roman and put a space in between your address and te...
Read full comment
"
... In the end you're in the program to get out after 5 years and get a 70k+ salary or work in Silicon Valley and get alot of money ...
Read full comment
"
... If you want to end up depressed and questioning your whole career path then please, go to Waterloo ...
Read full comment
"
... No meaningful support is given from the co-op office and the system clearly favors employers over students ...
Read full comment
"
... Of course, not all professors are that terrible, I can think of a few that made me continue to have faith in humanity, but in my experience, the ...
Read full comment
Recently Reviewed Schools!