Plymouth State University
16 Alums took the salary survey
PSU Alumni Salary over Time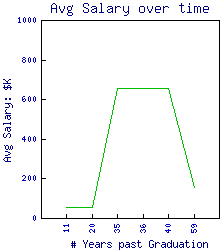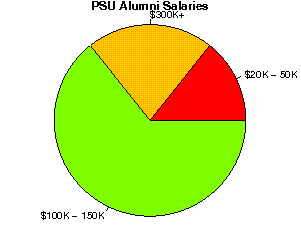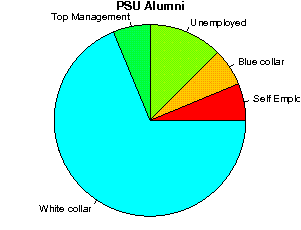 Said that PSU contributed
| | |
| --- | --- |
| 68.75% | 75-100% to their career success |
| 12.50% | 50-75% to their career success |
| 0.00% | 25-50% to their career success |
| 18.75% | 0-25% to their career success |
Had the employment status
| | |
| --- | --- |
| 6.25% | Self Employed |
| 6.25% | Top Management |
| 68.75% | White Collar workers |
| 0.00% | Pink Collar workers |
| 6.25% | Blue Collar workers |
| 0.00% | Entry Level employees |
| 12.50% | Unemployed. |
Life Satisfaction
| | |
| --- | --- |
| 81.25% | Are satisfied with their current job. |
| 81.25% | Said things are generally going well. |
| 81.25% | Are still in the field they majored in in college. |
Reputation & Preparedness
| | |
| --- | --- |
| Help from Reputation | 5.9 |
| Preparedness for Real world | 6.4 |
Most Frequently mentioned Graduate Jobs

Teacher (10), Performer (9), Developer (4), Engineer (3), Architect (3),
% went on to Graduate or Professional Ed.
68.8%
"
... Plymouth is the first school that first sparked my deep passion for learning which still fuels my career, life and parenting successes even now ...
Read full comment
"
... Save your money and look for a better school or work in the "real world" for a few years, will learn more from that than PSU ...
Read full comment
"
... i felt that i would be prepared to continue with my accounting career based upon what was taught in those few classes but as far as the rest of th...
Read full comment
"
... I felt my classes contributed to my sucess in my career today ...
Read full comment
"
... I have also had teachers offer to go get coffee at the local coffee shop to discuss an assignment, class, career paths, or life in general ...
Read full comment