42 Alums took the salary survey
Princeton Alumni Salary over Time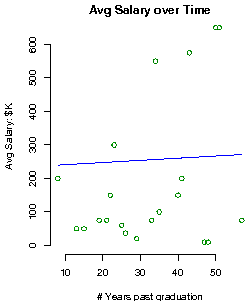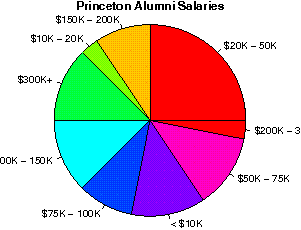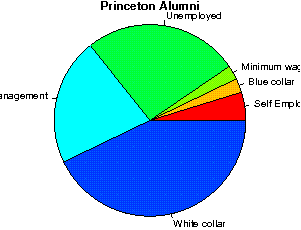 Said that Princeton contributed
| | |
| --- | --- |
| 23.81% | 75-100% to their career success |
| 14.29% | 50-75% to their career success |
| 23.81% | 25-50% to their career success |
| 38.10% | 0-25% to their career success |
Had the employment status
| | |
| --- | --- |
| 4.76% | Self Employed |
| 21.43% | Top Management |
| 42.86% | White Collar workers |
| 0.00% | Pink Collar workers |
| 2.38% | Blue Collar workers |
| 2.38% | Entry Level employees |
| 26.19% | Unemployed. |
Life Satisfaction
| | |
| --- | --- |
| 71.43% | Are satisfied with their current job. |
| 71.43% | Said things are generally going well. |
| 40.48% | Are still in the field they majored in in college. |
Reputation & Preparedness
| | |
| --- | --- |
| Help from Reputation | 6.5 |
| Preparedness for Real world | 5.4 |
Most Frequently mentioned Graduate Jobs

Manager (8), Sales (6), Attorney (4), National (4), Student (4),
% went on to Graduate or Professional Ed.
62.5%
"
... I did not get good grades at Princeton (due primarily to academic laziness, which I would love to go back and change if I could) but I still fin...
Read full comment
"
... always look for the promotion, always look for the opportunities that can further your education/career ...
Read full comment
"
... Princeton teaches you how to learn, how to analyze information and come up with your own ideas about it, and how to succeed in the real world ...
Read full comment
"
... From the brochures they mail out depicting beautiful Gothic-style dorms (only a quarter of the campus community lives in those dorms, the other 7...
Read full comment