7 Alums took the salary survey
Prescott Alumni Salary over Time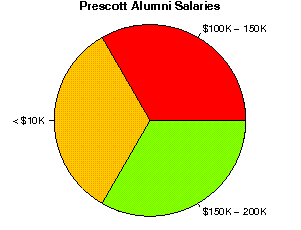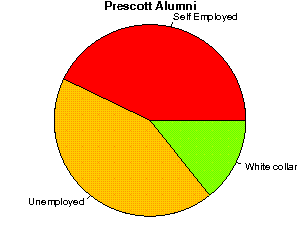 Said that Prescott contributed
| | |
| --- | --- |
| 42.86% | 75-100% to their career success |
| 14.29% | 50-75% to their career success |
| 14.29% | 25-50% to their career success |
| 28.57% | 0-25% to their career success |
Had the employment status
| | |
| --- | --- |
| 42.86% | Self Employed |
| 0.00% | Top Management |
| 14.29% | White Collar workers |
| 0.00% | Pink Collar workers |
| 0.00% | Blue Collar workers |
| 0.00% | Entry Level employees |
| 42.86% | Unemployed. |
Life Satisfaction
| | |
| --- | --- |
| 57.14% | Are satisfied with their current job. |
| 42.86% | Said things are generally going well. |
| 85.71% | Are still in the field they majored in in college. |
Reputation & Preparedness
| | |
| --- | --- |
| Help from Reputation | 3.4 |
| Preparedness for Real world | 4.4 |
Most Frequently mentioned Graduate Jobs

Teacher (3), Grant (1), Recruiter (1), Coordinator (1), Research (1),
% went on to Graduate or Professional Ed.
80%
"
... As a senior at Prescott College, I have spent the last few years living in and contributing to the real world in meaningful ways, rather than si...
Read full comment
"
... You will not have your hands held when it comes to your career decisions, though ...
Read full comment
"
... Prescott College lets students do what they want with their academic careers ...
Read full comment
"
... Unfortunately those real professors are hard to come by as the school completely undervalues hiring and providing a decent salary to those qualif...
Read full comment