6 Alums took the salary survey
Rollins Alumni Salary over Time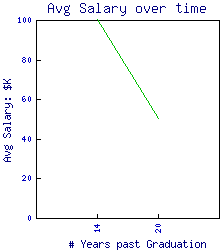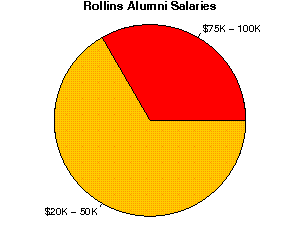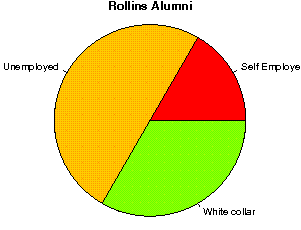 Said that Rollins contributed
| | |
| --- | --- |
| 50.00% | 75-100% to their career success |
| 16.67% | 50-75% to their career success |
| 0.00% | 25-50% to their career success |
| 33.33% | 0-25% to their career success |
Had the employment status
| | |
| --- | --- |
| 16.67% | Self Employed |
| 0.00% | Top Management |
| 33.33% | White Collar workers |
| 0.00% | Pink Collar workers |
| 0.00% | Blue Collar workers |
| 0.00% | Entry Level employees |
| 50.00% | Unemployed. |
Life Satisfaction
| | |
| --- | --- |
| 66.67% | Are satisfied with their current job. |
| 66.67% | Said things are generally going well. |
| 66.67% | Are still in the field they majored in in college. |
Reputation & Preparedness
| | |
| --- | --- |
| Help from Reputation | 5.8 |
| Preparedness for Real world | 6.4 |
Most Frequently mentioned Graduate Jobs

Director (2), Assistant (2), Counselor (2), Admission (2),
% went on to Graduate or Professional Ed.
50%
"
... The teachers are amazing, the Study Abroad Program is great, and the Career Services Office is super helpful ...
Read full comment
"
... There is a tutoring system, writing center, career center, advisers are available consistently, and the mental health center is always available...
Read full comment
"
... Don't get me wrong by the way, I like partying and drinking and soft drugs as much as the next guy, but the people here aren't anything but tools...
Read full comment
"
... As long as one stays the course I believe that this college can enrich you and build almost anyone a solid/ firm foundation for higher ...
Read full comment