14 Alums took the salary survey
SCU Alumni Salary over Time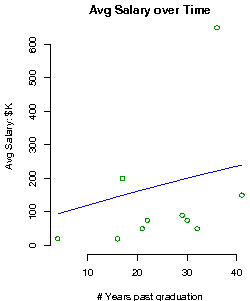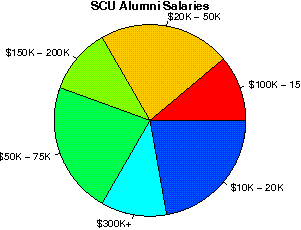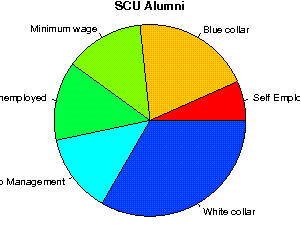 Said that SCU contributed
| | |
| --- | --- |
| 28.57% | 75-100% to their career success |
| 35.71% | 50-75% to their career success |
| 28.57% | 25-50% to their career success |
| 7.14% | 0-25% to their career success |
Had the employment status
| | |
| --- | --- |
| 7.14% | Self Employed |
| 14.29% | Top Management |
| 35.71% | White Collar workers |
| 0.00% | Pink Collar workers |
| 21.43% | Blue Collar workers |
| 7.14% | Entry Level employees |
| 14.29% | Unemployed. |
Life Satisfaction
| | |
| --- | --- |
| 78.57% | Are satisfied with their current job. |
| 64.29% | Said things are generally going well. |
| 71.43% | Are still in the field they majored in in college. |
Reputation & Preparedness
| | |
| --- | --- |
| Help from Reputation | 7 |
| Preparedness for Real world | 7.2 |
Most Frequently mentioned Graduate Jobs

Manager (3), Sales (3), Director (2), Visitor (1), Services (1),
% went on to Graduate or Professional Ed.
50%
"
... I recommend only coming here if you have a sizable financial aid package, and no Santa Clara doesn't give out financial aid midway through your c...
Read full comment
"
... Unfortunately, you wont learn much about the real world at SCU ...
Read full comment
"
... In the job world, people will see SCU on your resume and think you were a fool for spending 10 times what state schools cost ...
Read full comment
"
... Santa Clara students seem to enter the real world thinking they're still at the school ...
Read full comment
"
... As well, through the career center and other professors, I have been able to successfully network and get internship interview that have been he...
Read full comment