6 Alums took the salary survey
SHC Alumni Salary over Time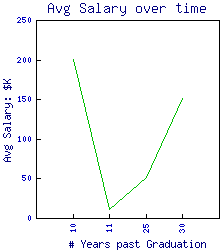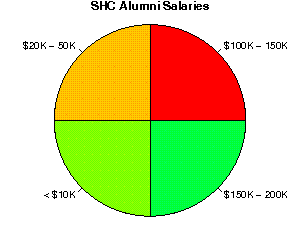 Said that SHC contributed
| | |
| --- | --- |
| 66.67% | 75-100% to their career success |
| 0.00% | 50-75% to their career success |
| 0.00% | 25-50% to their career success |
| 33.33% | 0-25% to their career success |
Had the employment status
| | |
| --- | --- |
| 0.00% | Self Employed |
| 0.00% | Top Management |
| 66.67% | White Collar workers |
| 0.00% | Pink Collar workers |
| 0.00% | Blue Collar workers |
| 16.67% | Entry Level employees |
| 16.67% | Unemployed. |
Life Satisfaction
| | |
| --- | --- |
| 83.33% | Are satisfied with their current job. |
| 83.33% | Said things are generally going well. |
| 66.67% | Are still in the field they majored in in college. |
Reputation & Preparedness
| | |
| --- | --- |
| Help from Reputation | 7 |
| Preparedness for Real world | 6.7 |
Most Frequently mentioned Graduate Jobs

Nurse (2), Er (1), School (1), Nursepractitioner (1), Student (1),
% went on to Graduate or Professional Ed.
100%
"
... I am just trying to look out for future nursing majors who want the best school for their career, and this school is simply not it ...
Read full comment
"
... This would be awesome considering the view is beautiful and the apartments are an upgrade from dorms (plus it is nice to actually be able to cook...
Read full comment
"
... In the end you will have a solid education in your chosen career, but also have the experience of personal growth ...
Read full comment