19 Alums took the salary survey
Siena Alumni Salary over Time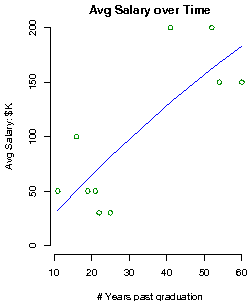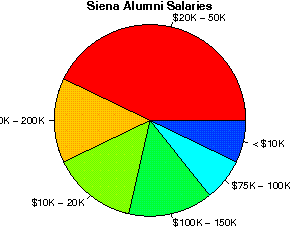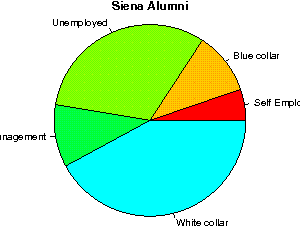 Said that Siena contributed
| | |
| --- | --- |
| 15.79% | 75-100% to their career success |
| 15.79% | 50-75% to their career success |
| 15.79% | 25-50% to their career success |
| 52.63% | 0-25% to their career success |
Had the employment status
| | |
| --- | --- |
| 5.26% | Self Employed |
| 10.53% | Top Management |
| 42.11% | White Collar workers |
| 0.00% | Pink Collar workers |
| 10.53% | Blue Collar workers |
| 0.00% | Entry Level employees |
| 31.58% | Unemployed. |
Life Satisfaction
| | |
| --- | --- |
| 57.89% | Are satisfied with their current job. |
| 57.89% | Said things are generally going well. |
| 42.11% | Are still in the field they majored in in college. |
Reputation & Preparedness
| | |
| --- | --- |
| Help from Reputation | 3.7 |
| Preparedness for Real world | 4 |
Most Frequently mentioned Graduate Jobs

Manager (4), Agent (3), Assistant (3), Project (2), Accountant (2),
% went on to Graduate or Professional Ed.
38.9%
"
... You're paying WAY too much money just to add onto your resume you went to a school with "Franciscan values ...
Read full comment
"
... Seifert is a joke and is usually too busy working on furthering his career and collecting stipens than advising or teaching ...
Read full comment
"
... No real life experience just the furthering of his career through the money of the parents of our future workforce ...
Read full comment
"
... Also when interviewing after leaving school both employers I interviewed with looked down on Siena and their business program because of their gr...
Read full comment
"
... In the "real world" you cannot simply put studying for a test or preparing a project off to the last minute ...
Read full comment
"
... Many students are spoiled rich Long Island kids whose parents have apparently never taught them responsibility or what it's like to live in the r...
Read full comment
"
... Overall, I would say, Siena, if any other institution, prepares you for the real world: Work can be challenging, dedicate to it, and you will p...
Read full comment