Saint Joseph's University
26 Alums took the salary survey
SJU Alumni Salary over Time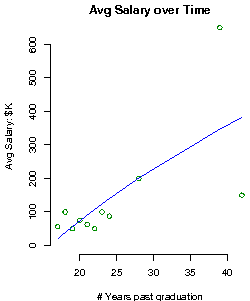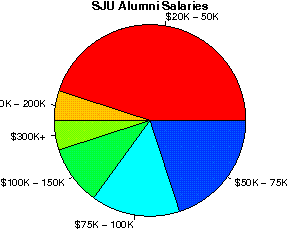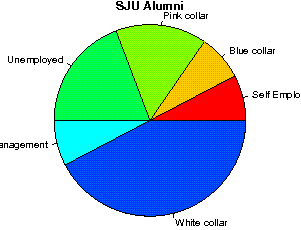 Said that SJU contributed
| | |
| --- | --- |
| 46.15% | 75-100% to their career success |
| 30.77% | 50-75% to their career success |
| 11.54% | 25-50% to their career success |
| 11.54% | 0-25% to their career success |
Had the employment status
| | |
| --- | --- |
| 7.69% | Self Employed |
| 7.69% | Top Management |
| 42.31% | White Collar workers |
| 15.38% | Pink Collar workers |
| 7.69% | Blue Collar workers |
| 0.00% | Entry Level employees |
| 19.23% | Unemployed. |
Life Satisfaction
| | |
| --- | --- |
| 84.62% | Are satisfied with their current job. |
| 88.46% | Said things are generally going well. |
| 57.69% | Are still in the field they majored in in college. |
Reputation & Preparedness
| | |
| --- | --- |
| Help from Reputation | 7.3 |
| Preparedness for Real world | 7.5 |
Most Frequently mentioned Graduate Jobs

Manager (8), Bank (5), Business (4), Development (3), Vp (3),
% went on to Graduate or Professional Ed.
50%
"
... Employers look for a BA, not at what school you obtained it ...
Read full comment
"
... My department has been great at providing me with opportunities and information on expanding my horizons and looking into possible careers, and t...
Read full comment
"
... SJU Kid's will never understand the importance of diversity within a professional setting in regards to the real world ...
Read full comment
"
... Some of them, like those in financial aid or career development, can be helpful, but the higher ups are clearly just there for a paycheck ...
Read full comment
"
... It certainly provided me with a good base for my career in marketing ...
Read full comment