19 Alums took the salary survey
SOC Alumni Salary over Time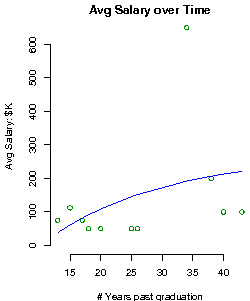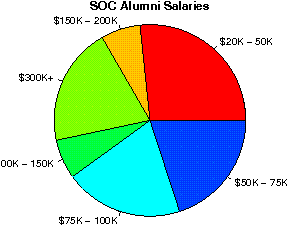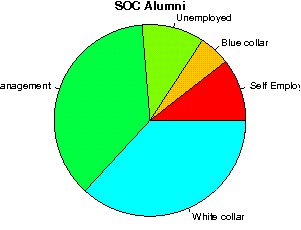 Said that SOC contributed
| | |
| --- | --- |
| 42.11% | 75-100% to their career success |
| 15.79% | 50-75% to their career success |
| 21.05% | 25-50% to their career success |
| 21.05% | 0-25% to their career success |
Had the employment status
| | |
| --- | --- |
| 10.53% | Self Employed |
| 36.84% | Top Management |
| 36.84% | White Collar workers |
| 0.00% | Pink Collar workers |
| 5.26% | Blue Collar workers |
| 0.00% | Entry Level employees |
| 10.53% | Unemployed. |
Life Satisfaction
| | |
| --- | --- |
| 78.95% | Are satisfied with their current job. |
| 94.74% | Said things are generally going well. |
| 52.63% | Are still in the field they majored in in college. |
Reputation & Preparedness
| | |
| --- | --- |
| Help from Reputation | 6.8 |
| Preparedness for Real world | 7.9 |
Most Frequently mentioned Graduate Jobs

Director (5), Staff (3), Analyst (3), Of (3), Assistant (3),
% went on to Graduate or Professional Ed.
73.7%
"
... There were many of those late night meaning-of-life conversations, and they are one of the things I miss most now that I'm in the real world ...
Read full comment
"
... It gave me an excellent liberal arts education that has prepared me well for a career in medicine, yet provided me with diverse interests and li...
Read full comment
"
... You will notice what an impact this had on you once you work in the real world with people who have not had a great liberal arts education ...
Read full comment