Texas State University San Marcos
35 Alums took the salary survey
none Alumni Salary over Time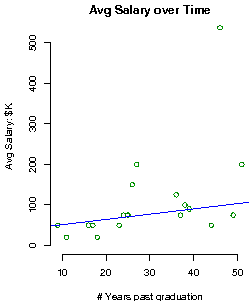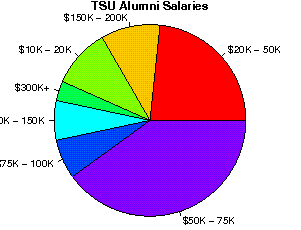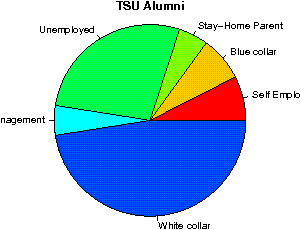 Said that none contributed
| | |
| --- | --- |
| 40.00% | 75-100% to their career success |
| 17.14% | 50-75% to their career success |
| 11.43% | 25-50% to their career success |
| 31.43% | 0-25% to their career success |
Had the employment status
| | |
| --- | --- |
| 8.57% | Self Employed |
| 5.71% | Top Management |
| 48.57% | White Collar workers |
| 0.00% | Pink Collar workers |
| 5.71% | Blue Collar workers |
| 0.00% | Entry Level employees |
| 25.71% | Unemployed. |
| | |
| --- | --- |
| 68.57% | Are satisfied with their current job. |
| 80.00% | Said things are generally going well. |
| 48.57% | Are still in the field they majored in in college. |
Reputation & Preparedness
| | |
| --- | --- |
| Help from Reputation | 5.4 |
| Preparedness for Real world | 6.4 |
Most Frequently mentioned Graduate Jobs

Manager (8), Engineer (8), Teacher (5), I (4), T (4),
% went on to Graduate or Professional Ed.
28.1%
"
... I transferred to SWT/TxState from UT after changing majors from Computer Science to English (to teach) and realizing that the extra $3K-$5K per ye...
Read full comment
"
... It also gives you the chance to make your own decisions and beable to make a mistake before going into the real world where mistakes aren't gene...
Read full comment
"
... I do wish that the School of Education had taken more of an interest in me as I prepared for my teaching career ...
Read full comment
"
... In summary, if you are looking to pursue a career that falls under one of the aforementioned degrees, are a huge nerd without a social life, o...
Read full comment
"
... My career success is directly related to attending TX State, my boss attended there and immediately gave me a chance based on my school and inte...
Read full comment
"
... texas state has a good program, the thing is that half of the stuff i will learn wont matter in the real world ...
Read full comment
"
... College developed a base of skills and knowledge for marketing in the employment arena ...
Read full comment