13 Alums took the salary survey
SU Alumni Salary over Time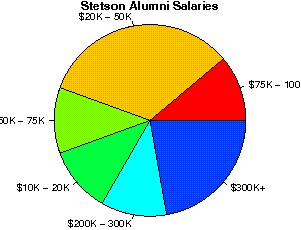 Said that SU contributed
| | |
| --- | --- |
| 38.46% | 75-100% to their career success |
| 30.77% | 50-75% to their career success |
| 7.69% | 25-50% to their career success |
| 23.08% | 0-25% to their career success |
Had the employment status
| | |
| --- | --- |
| 7.69% | Self Employed |
| 7.69% | Top Management |
| 53.85% | White Collar workers |
| 7.69% | Pink Collar workers |
| 0.00% | Blue Collar workers |
| 7.69% | Entry Level employees |
| 15.38% | Unemployed. |
| | |
| --- | --- |
| 76.92% | Are satisfied with their current job. |
| 69.23% | Said things are generally going well. |
| 38.46% | Are still in the field they majored in in college. |
Reputation & Preparedness
| | |
| --- | --- |
| Help from Reputation | 5.5 |
| Preparedness for Real world | 6.2 |
Most Frequently mentioned Graduate Jobs

Mcdonald (1), S (1), Member (1), Crew (1), Planner (1),
% went on to Graduate or Professional Ed.
61.5%
"
... Times have changed and majors no longer dictate your career path ...
Read full comment
"
... But there are many opportunities granted by career services to get you into great internship that will drive up your resume ...
Read full comment
"
... The school was great, but the job environment is lousy, and I am not getting much help from career services ...
Read full comment
"
... Going to Stetson University was the best experience I could have had to prepare me for Graduate School and the real world ...
Read full comment
"
... Your counterparts in public universities like uf, unf, and ucf will be making the same salary as you when you graduate minus all the student loan...
Read full comment
Similar Colleges by Education Quality