The University of West Georgia
6 Alums took the salary survey
UWG Alumni Salary over Time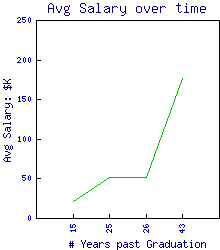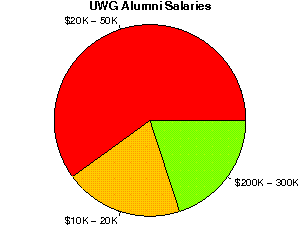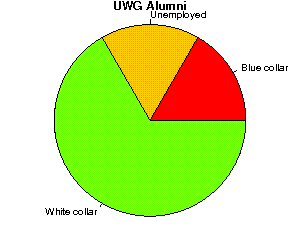 Said that UWG contributed
| | |
| --- | --- |
| 16.67% | 75-100% to their career success |
| 50.00% | 50-75% to their career success |
| 16.67% | 25-50% to their career success |
| 16.67% | 0-25% to their career success |
Had the employment status
| | |
| --- | --- |
| 0.00% | Self Employed |
| 0.00% | Top Management |
| 66.67% | White Collar workers |
| 0.00% | Pink Collar workers |
| 16.67% | Blue Collar workers |
| 0.00% | Entry Level employees |
| 16.67% | Unemployed. |
Life Satisfaction
| | |
| --- | --- |
| 50.00% | Are satisfied with their current job. |
| 83.33% | Said things are generally going well. |
| 33.33% | Are still in the field they majored in in college. |
Reputation & Preparedness
| | |
| --- | --- |
| Help from Reputation | 4.3 |
| Preparedness for Real world | 5.8 |
Most Frequently mentioned Graduate Jobs

Pilot (2), Adviser (1), Worker (1), Educational (1), Director (1),
% went on to Graduate or Professional Ed.
0%
"
... So many of us in the cohort kept in touch and we were all complaining how the program did not actually prepare us for the real world of teaching ...
Read full comment
"
... They really care that you understand the material and you actually learn what you will use for the real world ...
Read full comment
"
... It won't be long before employers turn UWG graduates away simply because of their education (much like what has happened with Columbus state in m...
Read full comment
"
... UWG's academics are above avg compared to some other GA institutions; however, UWG's reputation amongst employers is not quite where it needs to ...
Read full comment
"
... I had my eye on a career in aviation, but wanted to have an education in a business field that I could fall back on if necessary ...
Read full comment