School of the Art Institute of Chicago
23 Alums took the salary survey
SAIC/STAIO-Chicago Alumni Salary over Time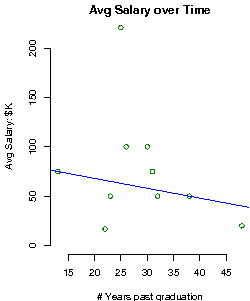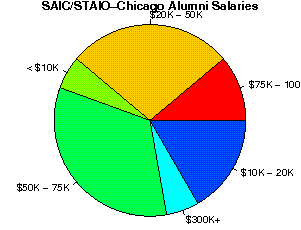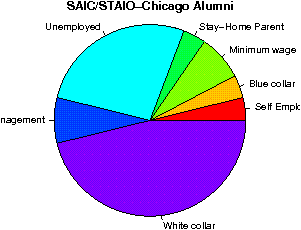 Said that SAIC/STAIO-Chicago contributed
| | |
| --- | --- |
| 13.04% | 75-100% to their career success |
| 17.39% | 50-75% to their career success |
| 30.43% | 25-50% to their career success |
| 39.13% | 0-25% to their career success |
Had the employment status
| | |
| --- | --- |
| 4.35% | Self Employed |
| 8.70% | Top Management |
| 43.48% | White Collar workers |
| 0.00% | Pink Collar workers |
| 4.35% | Blue Collar workers |
| 8.70% | Entry Level employees |
| 26.09% | Unemployed. |
Life Satisfaction
| | |
| --- | --- |
| 52.17% | Are satisfied with their current job. |
| 60.87% | Said things are generally going well. |
| 39.13% | Are still in the field they majored in in college. |
Reputation & Preparedness
| | |
| --- | --- |
| Help from Reputation | 5.1 |
| Preparedness for Real world | 5 |
Most Frequently mentioned Graduate Jobs

Designer (6), Professor (6), Assistant (5), Teacher (3), Sales (3),
% went on to Graduate or Professional Ed.
30%
"
... While I value the education I got, I didn't get enough information about how to actually make a living and support my career ...
Read full comment
"
... I became very depressed and began to lose my interest in art because of this institution (I have always loved art and wanted a career in art - fo...
Read full comment
"
... " You can say that I'm just not looking at the curriculum with the right attitude, but the fact is this: I'm not really learning what I need to le...
Read full comment
"
... Financial aid will be little to no service, as will the Career and Co-Op center ...
Read full comment
"
... I completed my independent study in New York and returned for my thesis show which could have been stronger had I stayed but because I had a job...
Read full comment
"
... The school refuses to keep track/acknowledge the unemployment rate of its students (last time I checked other sources it was about 30%) ...
Read full comment