15 Alums took the salary survey
TSU Alumni Salary over Time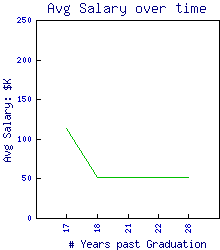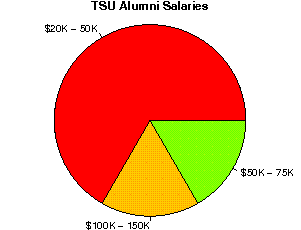 Said that TSU contributed
| | |
| --- | --- |
| 20.00% | 75-100% to their career success |
| 46.67% | 50-75% to their career success |
| 6.67% | 25-50% to their career success |
| 26.67% | 0-25% to their career success |
Had the employment status
| | |
| --- | --- |
| 0.00% | Self Employed |
| 0.00% | Top Management |
| 33.33% | White Collar workers |
| 6.67% | Pink Collar workers |
| 6.67% | Blue Collar workers |
| 0.00% | Entry Level employees |
| 53.33% | Unemployed. |
Life Satisfaction
| | |
| --- | --- |
| 66.67% | Are satisfied with their current job. |
| 73.33% | Said things are generally going well. |
| 46.67% | Are still in the field they majored in in college. |
Reputation & Preparedness
| | |
| --- | --- |
| Help from Reputation | 6.1 |
| Preparedness for Real world | 5.9 |
Most Frequently mentioned Graduate Jobs

Planner (6), Supply (4), Chain (4), Teacher (3), Planning (2),
% went on to Graduate or Professional Ed.
64.3%
"
... The general entering freshman is very white, unadventurous, oblivious to the "real world", exceptionally affluent but unwilling to admit it to t...
Read full comment
"
... It tries to market itself as selective college but it relatively unknown outside of missouri to employers ...
Read full comment
"
... In my first year, I only had one professor that deserved his salary ...
Read full comment
"
... That is the most important take away from school AND the most important aspect of being successful in your career ...
Read full comment
"
... Truman provides excellent preparation for graduate studies, but might not be the best place to launch a career in industry ...
Read full comment