The University of Arizona
25 Alums took the salary survey
ARIZONA Alumni Salary over Time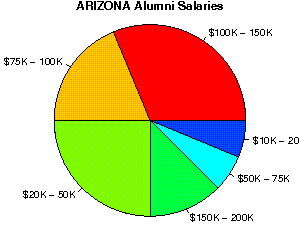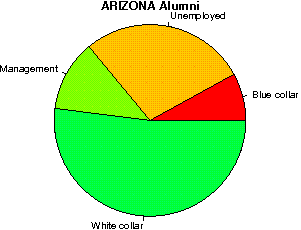 Said that ARIZONA contributed
| | |
| --- | --- |
| 36.00% | 75-100% to their career success |
| 20.00% | 50-75% to their career success |
| 12.00% | 25-50% to their career success |
| 32.00% | 0-25% to their career success |
Had the employment status
| | |
| --- | --- |
| 0.00% | Self Employed |
| 12.00% | Top Management |
| 52.00% | White Collar workers |
| 0.00% | Pink Collar workers |
| 8.00% | Blue Collar workers |
| 0.00% | Entry Level employees |
| 28.00% | Unemployed. |
Life Satisfaction
| | |
| --- | --- |
| 68.00% | Are satisfied with their current job. |
| 72.00% | Said things are generally going well. |
| 52.00% | Are still in the field they majored in in college. |
Reputation & Preparedness
| | |
| --- | --- |
| Help from Reputation | 5.6 |
| Preparedness for Real world | 5.9 |
Most Frequently mentioned Graduate Jobs

Director (8), Manager (7), Sales (6), Vp (5), Executive (3),
% went on to Graduate or Professional Ed.
26.1%
"
... The UofA reputation in my area of study was recognized by potential employers ...
Read full comment
"
... Avoid Blanchard's class, I'm a good student but I though his method of teaching was too hard and not applicable to the real world (ACCT 210) ...
Read full comment
"
... The only thing I don't know about is the liberal arts program, and, well, if you're going to college to learn how to dance then good luck in the...
Read full comment
"
... In fact, I'm going to be finishing up my college career at a different school ...
Read full comment