The University of Arkansas - Little Rock
5 Alums took the salary survey
UALR/UArkansas-Little Rock Alumni Salary over Time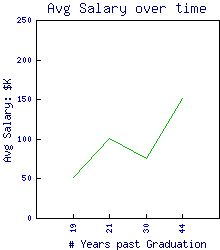 Said that UALR/UArkansas-Little Rock contributed
| | |
| --- | --- |
| 40.00% | 75-100% to their career success |
| 40.00% | 50-75% to their career success |
| 0.00% | 25-50% to their career success |
| 20.00% | 0-25% to their career success |
Had the employment status
| | |
| --- | --- |
| 0.00% | Self Employed |
| 20.00% | Top Management |
| 40.00% | White Collar workers |
| 0.00% | Pink Collar workers |
| 20.00% | Blue Collar workers |
| 0.00% | Entry Level employees |
| 20.00% | Unemployed. |
Life Satisfaction
| | |
| --- | --- |
| 60.00% | Are satisfied with their current job. |
| 60.00% | Said things are generally going well. |
| 80.00% | Are still in the field they majored in in college. |
Reputation & Preparedness
| | |
| --- | --- |
| Help from Reputation | 4.8 |
| Preparedness for Real world | 7.2 |
Most Frequently mentioned Graduate Jobs

Instructor (2), Officer (2), L (1), Assistant (1), P (1),
% went on to Graduate or Professional Ed.
100%
"
... Because the cost was reasonable I had no debt at graduation, was able to attend grad school and move into my career ...
Read full comment
"
... I can safely say besides one course I took in that building of the 5 or 6 I had to attend, I acquired no useful skills or information that I coul...
Read full comment
"
... The Criminal Juatice Dept has a few good professors but in regards to career advice they, as in career servicess, say they will help you but the...
Read full comment
"
... As a result of my experience there, I began a university teaching career and entered Ph ...
Read full comment