The University of Colorado - Boulder
22 Alums took the salary survey
COLORADO-Boulder Alumni Salary over Time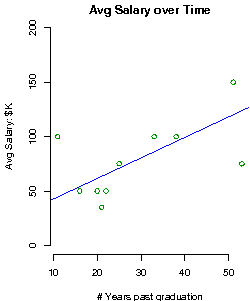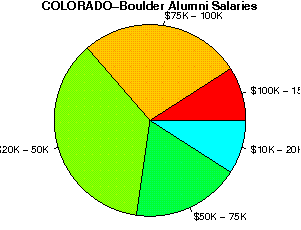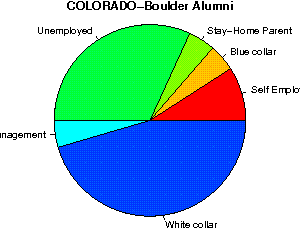 Said that COLORADO-Boulder contributed
| | |
| --- | --- |
| 18.18% | 75-100% to their career success |
| 40.91% | 50-75% to their career success |
| 4.55% | 25-50% to their career success |
| 36.36% | 0-25% to their career success |
Had the employment status
| | |
| --- | --- |
| 9.09% | Self Employed |
| 4.55% | Top Management |
| 45.45% | White Collar workers |
| 0.00% | Pink Collar workers |
| 4.55% | Blue Collar workers |
| 0.00% | Entry Level employees |
| 31.82% | Unemployed. |
Life Satisfaction
| | |
| --- | --- |
| 63.64% | Are satisfied with their current job. |
| 68.18% | Said things are generally going well. |
| 54.55% | Are still in the field they majored in in college. |
Reputation & Preparedness
| | |
| --- | --- |
| Help from Reputation | 5.7 |
| Preparedness for Real world | 5.5 |
Most Frequently mentioned Graduate Jobs

Research (5), Associate (4), Assistant (3), At (3), Intern (3),
% went on to Graduate or Professional Ed.
72.7%
"
... To me, a great school provides a solid education - in a framework promoting independence - along with the ability to gain work experience appl...
Read full comment
"
... If you want your college career to be a huge party filled with alcohol, sex and drugs galore, then just open your hand and you can get some here ...
Read full comment
"
... But overall, CU really isn't a nice place if you are someone who likes to be challenged intellectually, who enjoys being around interesting peop...
Read full comment
"
... I think the education you get here will more than prepare you for any career you are going into ...
Read full comment
"
... I should have worked with REAL career counselors and taken some of the available tools like the Meyers-Briggs Type Indicator to get a feel for who...
Read full comment
"
... I also found an amazing university job where I learned a lot in engineering and real world business practices, made a ton of connections, but wa...
Read full comment
"
... CU's extra resources - study abroad, counseling and psych, career services - are all top-notch and very understanding, and you can't talk to t...
Read full comment