The University of Central Oklahoma
11 Alums took the salary survey
UCO Alumni Salary over Time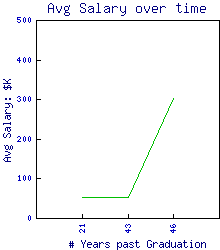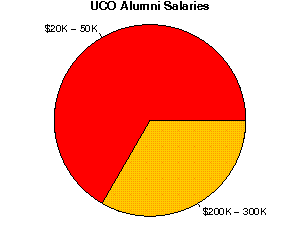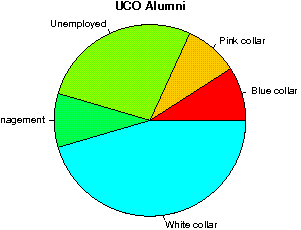 Said that UCO contributed
| | |
| --- | --- |
| 9.09% | 75-100% to their career success |
| 27.27% | 50-75% to their career success |
| 0.00% | 25-50% to their career success |
| 63.64% | 0-25% to their career success |
Had the employment status
| | |
| --- | --- |
| 0.00% | Self Employed |
| 9.09% | Top Management |
| 45.45% | White Collar workers |
| 9.09% | Pink Collar workers |
| 9.09% | Blue Collar workers |
| 0.00% | Entry Level employees |
| 27.27% | Unemployed. |
Life Satisfaction
| | |
| --- | --- |
| 63.64% | Are satisfied with their current job. |
| 72.73% | Said things are generally going well. |
| 54.55% | Are still in the field they majored in in college. |
Reputation & Preparedness
| | |
| --- | --- |
| Help from Reputation | 2.5 |
| Preparedness for Real world | 4.3 |
Most Frequently mentioned Graduate Jobs

Restaurant (1), Owner (1), Attorney (1),
% went on to Graduate or Professional Ed.
40%
"
... I always joke but it is kinda true that the only classes that I took at UCO that helped me in my career are Humanities and Speech ...
Read full comment
"
... The people are interesting and kind and I genuinely feel that I will graduate ready for the "real world" ...
Read full comment
"
... The professors have too much power here and if one professor chooses not to like you he or she can stop you from graduating and pursuing your dre...
Read full comment
"
... The university pays all professors in all department a flat noncompetitive salary, reguardless of their field which resulted in the lose of most...
Read full comment