The University of Louisville
11 Alums took the salary survey
LOUISVILLE Alumni Salary over Time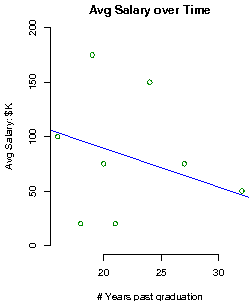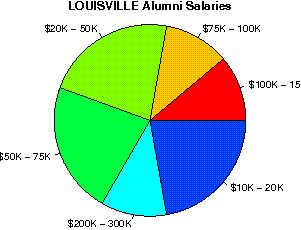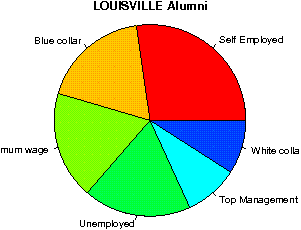 Said that LOUISVILLE contributed
| | |
| --- | --- |
| 9.09% | 75-100% to their career success |
| 18.18% | 50-75% to their career success |
| 36.36% | 25-50% to their career success |
| 36.36% | 0-25% to their career success |
Had the employment status
| | |
| --- | --- |
| 27.27% | Self Employed |
| 9.09% | Top Management |
| 9.09% | White Collar workers |
| 0.00% | Pink Collar workers |
| 18.18% | Blue Collar workers |
| 18.18% | Entry Level employees |
| 18.18% | Unemployed. |
Life Satisfaction
| | |
| --- | --- |
| 36.36% | Are satisfied with their current job. |
| 63.64% | Said things are generally going well. |
| 81.82% | Are still in the field they majored in in college. |
Reputation & Preparedness
| | |
| --- | --- |
| Help from Reputation | 4.4 |
| Preparedness for Real world | 4.8 |
Most Frequently mentioned Graduate Jobs

Programmer (2), Jefferson (1), County (1), Store (1), Cashier (1),
% went on to Graduate or Professional Ed.
40%
"
... ve worked with through the career center and the study abroad at the College Of Business have been very helpful, yet they are buried in the baseme...
Read full comment
"
... I feel almost cheated that my family spent money to send me here and I don't have any positive memories or better career training to show...
Read full comment
"
... Only to find out employer's do not know what this program consists of, is it marketing, accounting, or how to screw in a lightbulb ...
Read full comment