The University of Mississippi
13 Alums took the salary survey
OLEMISS/UMiss Alumni Salary over Time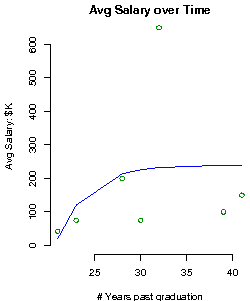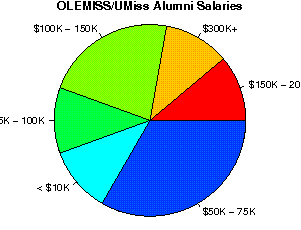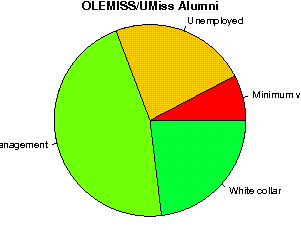 Said that OLEMISS/UMiss contributed
| | |
| --- | --- |
| 15.38% | 75-100% to their career success |
| 38.46% | 50-75% to their career success |
| 15.38% | 25-50% to their career success |
| 30.77% | 0-25% to their career success |
Had the employment status
| | |
| --- | --- |
| 0.00% | Self Employed |
| 46.15% | Top Management |
| 23.08% | White Collar workers |
| 0.00% | Pink Collar workers |
| 0.00% | Blue Collar workers |
| 7.69% | Entry Level employees |
| 23.08% | Unemployed. |
Life Satisfaction
| | |
| --- | --- |
| 84.62% | Are satisfied with their current job. |
| 84.62% | Said things are generally going well. |
| 38.46% | Are still in the field they majored in in college. |
Reputation & Preparedness
| | |
| --- | --- |
| Help from Reputation | 4.8 |
| Preparedness for Real world | 6.4 |
Most Frequently mentioned Graduate Jobs

Branch (4), Manager (4), Of (3), Assistant (3), Associate (2),
% went on to Graduate or Professional Ed.
58.3%
"
... I spent alot of money and time at this school and I can honestly say for the first time in my academic career i have learned nothing ...
Read full comment
"
... Now that I am married, have a master's degree, career and kids I look back and realize how much nonsense there is at Ole Miss ...
Read full comment
"
... I have since gone on to develop a great career and and ending my Master's work at another (local) university ...
Read full comment
"
... Always remember that there is more to learn in the "real world" that what any school teaches you ...
Read full comment