The University of Massachusetts Dartmouth
9 Alums took the salary survey
UMD Alumni Salary over Time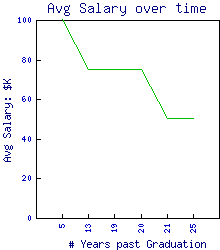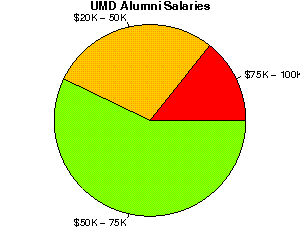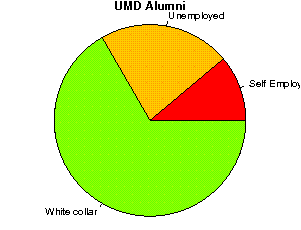 Said that UMD contributed
| | |
| --- | --- |
| 22.22% | 75-100% to their career success |
| 55.56% | 50-75% to their career success |
| 0.00% | 25-50% to their career success |
| 22.22% | 0-25% to their career success |
Had the employment status
| | |
| --- | --- |
| 11.11% | Self Employed |
| 0.00% | Top Management |
| 66.67% | White Collar workers |
| 0.00% | Pink Collar workers |
| 0.00% | Blue Collar workers |
| 0.00% | Entry Level employees |
| 22.22% | Unemployed. |
Life Satisfaction
| | |
| --- | --- |
| 88.89% | Are satisfied with their current job. |
| 88.89% | Said things are generally going well. |
| 88.89% | Are still in the field they majored in in college. |
Reputation & Preparedness
| | |
| --- | --- |
| Help from Reputation | 3.7 |
| Preparedness for Real world | 5.7 |
Most Frequently mentioned Graduate Jobs

Engineer (3), Manager (3), Economist (2), Design (2), Real (2),
% went on to Graduate or Professional Ed.
0%
"
... Simply waving your diploma around will get you nothing these days - a CIS degree is not extremly difficult to obtain, and employers know that .....
Read full comment
"
... I say relatively, because employers either confuse UMass Dartmouth with Dartmouth College, or they think only of UMass Amherst ...
Read full comment
"
... Employment (besides the usual wait-staff/grocery clerk/mall work) in the area is almost non-present, but quality employment can be found within a...
Read full comment
"
... UMD also has a great support network, including counseling, student development, career center,and reasearch librarians ...
Read full comment
"
... The curriculum is awful, I do not feel they provided me with any of the experience necessary for the real world, missing essentials like learning...
Read full comment