The University of Oklahoma - Norman
11 Alums took the salary survey
OU/UOklahoma-Norman Alumni Salary over Time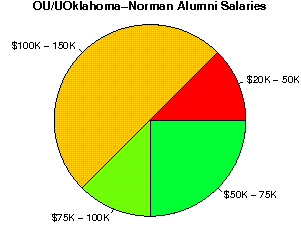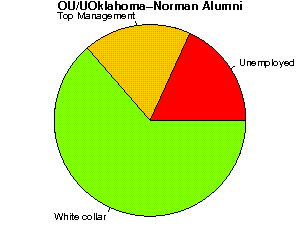 Said that OU/UOklahoma-Norman contributed
| | |
| --- | --- |
| 27.27% | 75-100% to their career success |
| 27.27% | 50-75% to their career success |
| 0.00% | 25-50% to their career success |
| 45.45% | 0-25% to their career success |
Had the employment status
| | |
| --- | --- |
| 0.00% | Self Employed |
| 18.18% | Top Management |
| 63.64% | White Collar workers |
| 0.00% | Pink Collar workers |
| 0.00% | Blue Collar workers |
| 0.00% | Entry Level employees |
| 18.18% | Unemployed. |
Life Satisfaction
| | |
| --- | --- |
| 72.73% | Are satisfied with their current job. |
| 81.82% | Said things are generally going well. |
| 36.36% | Are still in the field they majored in in college. |
Reputation & Preparedness
| | |
| --- | --- |
| Help from Reputation | 4.8 |
| Preparedness for Real world | 4.9 |
Most Frequently mentioned Graduate Jobs

Manager (2), Engineer (2), Physicist (1), Radiological (1), Acquisition (1),
% went on to Graduate or Professional Ed.
55.6%
"
... The career services caters to the business college, oil & energy students, journalism college (PR, communications, journalism), meteorology, and ...
Read full comment
"
... I have yet to use any sckills form school in my current engineering employment ...
Read full comment
"
... OU's degrees (I have two BS degrees, Microbiology and Chemical Engineering) are serious achievements that take hard work and the effort pays off...
Read full comment
"
... The school also makes a fantastic effort to connect students to folks working in the industry, so finding a summer internship, co-op, or full-ti...
Read full comment
"
... I'm a broadcast major and the equipment we have and use is unbelievably advanced and everyday i feel as though i'm closer towards my future caree...
Read full comment