The University of Phoenix
6 Alums took the salary survey
UPhoenix Alumni Salary over Time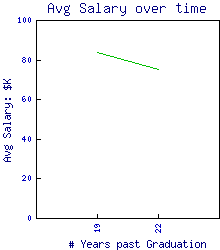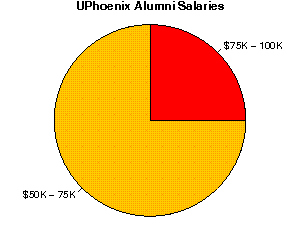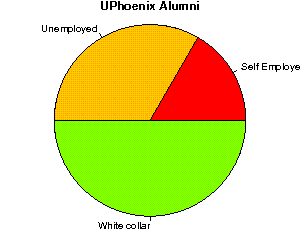 Said that UPhoenix contributed
| | |
| --- | --- |
| 0.00% | 75-100% to their career success |
| 16.67% | 50-75% to their career success |
| 33.33% | 25-50% to their career success |
| 50.00% | 0-25% to their career success |
Had the employment status
| | |
| --- | --- |
| 16.67% | Self Employed |
| 0.00% | Top Management |
| 50.00% | White Collar workers |
| 0.00% | Pink Collar workers |
| 0.00% | Blue Collar workers |
| 0.00% | Entry Level employees |
| 33.33% | Unemployed. |
Life Satisfaction
| | |
| --- | --- |
| 50.00% | Are satisfied with their current job. |
| 66.67% | Said things are generally going well. |
| 66.67% | Are still in the field they majored in in college. |
Reputation & Preparedness
| | |
| --- | --- |
| Help from Reputation | 2.8 |
| Preparedness for Real world | 5.3 |
Most Frequently mentioned Graduate Jobs

None (3), Analyst (2), Wouldn (1), T (1), At (1),
% went on to Graduate or Professional Ed.
0%
"
... Other than that UOP is a great school, that holds a lot of weight in the REAL world ...
Read full comment
"
... degree in accounting and I was never able to find a job, infact, one employer laughed at me when he saw UOP on my resume, and State Scools, such a...
Read full comment
"
... The current research company I work for made a policy to throw out resumes from anyone who graduated from this college, I am lucky they hired me...
Read full comment
"
... The reality of it, is that yes sometimes we do get stuck with slackers, but that is the real world scenario in any place you work at ...
Read full comment