The University of Pittsburgh Pittsburgh Campus
30 Alums took the salary survey
PITT/UPittsburgh-Pittsburgh Alumni Salary over Time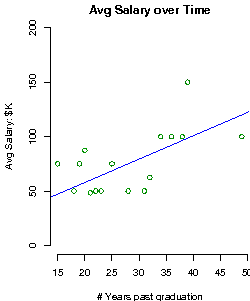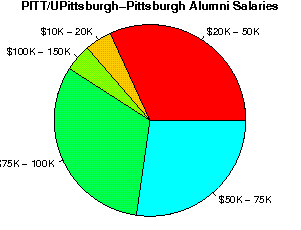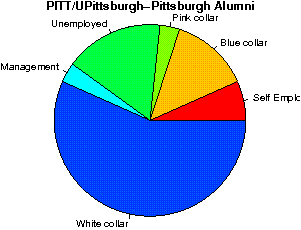 Said that PITT/UPittsburgh-Pittsburgh contributed
| | |
| --- | --- |
| 26.67% | 75-100% to their career success |
| 40.00% | 50-75% to their career success |
| 6.67% | 25-50% to their career success |
| 26.67% | 0-25% to their career success |
Had the employment status
| | |
| --- | --- |
| 6.67% | Self Employed |
| 3.33% | Top Management |
| 56.67% | White Collar workers |
| 3.33% | Pink Collar workers |
| 13.33% | Blue Collar workers |
| 0.00% | Entry Level employees |
| 16.67% | Unemployed. |
Life Satisfaction
| | |
| --- | --- |
| 70.00% | Are satisfied with their current job. |
| 80.00% | Said things are generally going well. |
| 60.00% | Are still in the field they majored in in college. |
Reputation & Preparedness
| | |
| --- | --- |
| Help from Reputation | 5.2 |
| Preparedness for Real world | 6.6 |
Most Frequently mentioned Graduate Jobs

Programmer (7), Specialist (6), Engineer (5), Director (4), Graduate (4),
% went on to Graduate or Professional Ed.
59.3%
"
... This school gives you all the resources to be successful, so PLEASE take advantage of the internship guarantee program, the Fall and Spring caree...
Read full comment
"
... While kids were partying, I was studying and I got to where I wanted to be without the elite university on my resume ...
Read full comment
"
... Advising is, as a rule, awful, and career services are almost non-existent ...
Read full comment
"
... There are endless opportunities in Pittsburgh and faculty/advisors are very helpful when it comes to academic advising or career questions ...
Read full comment
"
... I can guess though--maybe 50% to recruit new students, another 30% to fix up the buildings that students will see on their campus tours, 10% to ...
Read full comment