United States Air Force Academy
32 Alums took the salary survey
USAFA Alumni Salary over Time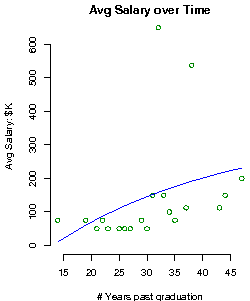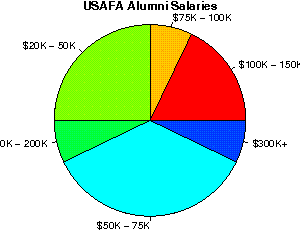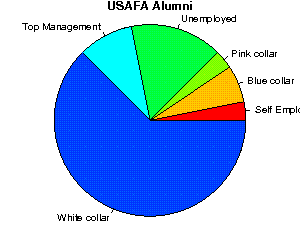 Said that USAFA contributed
| | |
| --- | --- |
| 31.25% | 75-100% to their career success |
| 46.88% | 50-75% to their career success |
| 6.25% | 25-50% to their career success |
| 15.63% | 0-25% to their career success |
Had the employment status
| | |
| --- | --- |
| 3.13% | Self Employed |
| 9.38% | Top Management |
| 62.50% | White Collar workers |
| 3.13% | Pink Collar workers |
| 6.25% | Blue Collar workers |
| 0.00% | Entry Level employees |
| 15.63% | Unemployed. |
Life Satisfaction
| | |
| --- | --- |
| 81.25% | Are satisfied with their current job. |
| 87.50% | Said things are generally going well. |
| 53.13% | Are still in the field they majored in in college. |
Reputation & Preparedness
| | |
| --- | --- |
| Help from Reputation | 7.8 |
| Preparedness for Real world | 7.6 |
Most Frequently mentioned Graduate Jobs

Engineer (12), Pilot (9), Officer (9), Project (8), Manager (8),
% went on to Graduate or Professional Ed.
71%
"
... ) I was challenged by the coursework, and even though I didn't really want to take civil engineering or astronautical engineering at the time, ...
Read full comment
"
... However, if you enjoy being challenged and like to establish your career endeavors early on, this might be the right place for you ...
Read full comment
"
... Most kids from regular colleges are ill prepared for the real world but a graduate from the Academy, for the most part, is financially and mental...
Read full comment
"
... USAFA sets you up for a rewarding career in a variety of career fields ...
Read full comment
"
... My experience after the Air Force was that both employers and graduate schools were very taken with the experience and seriousness of an Academy ...
Read full comment