The University of South Carolina - Columbia
24 Alums took the salary survey
SC-Columbia Alumni Salary over Time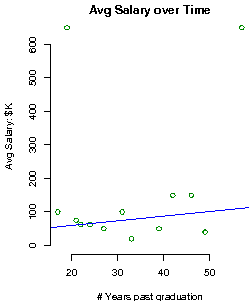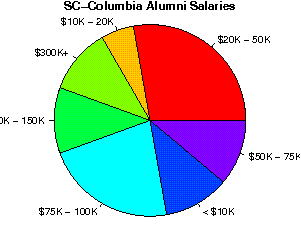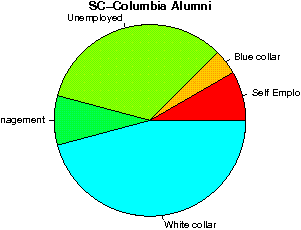 Said that SC-Columbia contributed
| | |
| --- | --- |
| 33.33% | 75-100% to their career success |
| 20.83% | 50-75% to their career success |
| 8.33% | 25-50% to their career success |
| 37.50% | 0-25% to their career success |
Had the employment status
| | |
| --- | --- |
| 8.33% | Self Employed |
| 8.33% | Top Management |
| 45.83% | White Collar workers |
| 0.00% | Pink Collar workers |
| 4.17% | Blue Collar workers |
| 0.00% | Entry Level employees |
| 33.33% | Unemployed. |
Life Satisfaction
| | |
| --- | --- |
| 66.67% | Are satisfied with their current job. |
| 70.83% | Said things are generally going well. |
| 50.00% | Are still in the field they majored in in college. |
Reputation & Preparedness
| | |
| --- | --- |
| Help from Reputation | 5.3 |
| Preparedness for Real world | 6.7 |
Most Frequently mentioned Graduate Jobs

Engineer (6), Manager (5), Director (3), Project (3), Software (2),
% went on to Graduate or Professional Ed.
43.8%
"
... Then they end up getting some half assed job or going back to school to avoid going into the real world ...
Read full comment
"
... The University of South Carolina is an excellent career choice and is a school that is highly admired ...
Read full comment
"
... In the clubs especially, people are more focused on writing it down on their resume than getting to know the members ...
Read full comment