The University of Tennessee - Knoxville
13 Alums took the salary survey
UTenn-Knoxville Alumni Salary over Time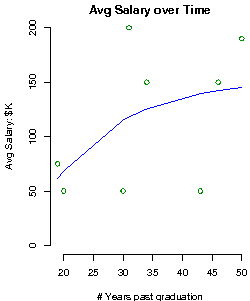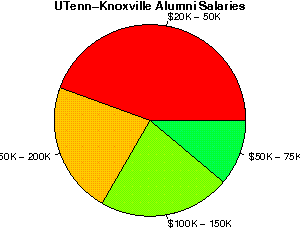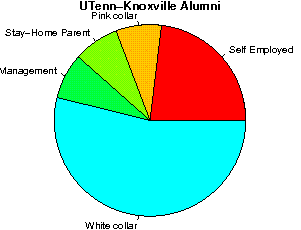 Said that UTenn-Knoxville contributed
| | |
| --- | --- |
| 38.46% | 75-100% to their career success |
| 38.46% | 50-75% to their career success |
| 23.08% | 25-50% to their career success |
| 0.00% | 0-25% to their career success |
Had the employment status
| | |
| --- | --- |
| 23.08% | Self Employed |
| 7.69% | Top Management |
| 53.85% | White Collar workers |
| 7.69% | Pink Collar workers |
| 0.00% | Blue Collar workers |
| 0.00% | Entry Level employees |
| 0.00% | Unemployed. |
Life Satisfaction
| | |
| --- | --- |
| 61.54% | Are satisfied with their current job. |
| 100.00% | Said things are generally going well. |
| 76.92% | Are still in the field they majored in in college. |
Reputation & Preparedness
| | |
| --- | --- |
| Help from Reputation | 5.9 |
| Preparedness for Real world | 7.1 |
Most Frequently mentioned Graduate Jobs

Manager (4), Business (3), Sales (3), Analyst (3), Librarian (2),
% went on to Graduate or Professional Ed.
54.5%
Get Advice from Alumni
Tutor
"
... I was actively lied to by an advisor about requirements, transfer possibilities, job opportunities in the new field that interested me and finall...
Read full comment
"
... Noticing the recent renovations on campus makes me question where our money from the tuition increase goes (besides Jimmy Cheeks salary that is) ...
Read full comment
"
... It was the sharpest knife I ever felt and it almost cost me my financlial aid and college career ...
Read full comment
"
... I would encourage high school students to try to get some experience with the different types of jobs to get a feel for possible careers ...
Read full comment
"
... However, you'll want to go somewhere else for graduate school or to start your career ...
Read full comment