8 Alums took the salary survey
Wagner Alumni Salary over Time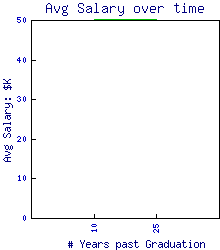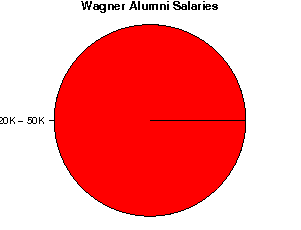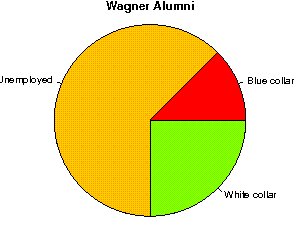 Said that Wagner contributed
| | |
| --- | --- |
| 12.50% | 75-100% to their career success |
| 0.00% | 50-75% to their career success |
| 12.50% | 25-50% to their career success |
| 75.00% | 0-25% to their career success |
Had the employment status
| | |
| --- | --- |
| 0.00% | Self Employed |
| 0.00% | Top Management |
| 25.00% | White Collar workers |
| 0.00% | Pink Collar workers |
| 12.50% | Blue Collar workers |
| 0.00% | Entry Level employees |
| 62.50% | Unemployed. |
Life Satisfaction
| | |
| --- | --- |
| 50.00% | Are satisfied with their current job. |
| 75.00% | Said things are generally going well. |
| 37.50% | Are still in the field they majored in in college. |
Reputation & Preparedness
| | |
| --- | --- |
| Help from Reputation | 1 |
| Preparedness for Real world | 4.2 |
Most Frequently mentioned Graduate Jobs

Department (1), Chem (1),
% went on to Graduate or Professional Ed.
50%
"
... Wagner was not my first choice when decided where I wanted to attend college, but there were a few reasons why I wanted I did choose to attend -S...
Read full comment
"
... Career development has been very helpful in internship and networking help; many who complain about negative qualities of career help tend not t...
Read full comment
"
... However, even though we emphasize internships, the school does not put enough emphasis and awareness to create connections to secure a career pat...
Read full comment
"
... Wagner does not push to get you out into the "real world" in four years, but keeps you there as long as possible to squeeze more money out of yo...
Read full comment
"
... I began my nursing career with many other Wagner graduates and we were definately prepared for our 1st "real" job ...
Read full comment