19 Alums took the salary survey
Williams Alumni Salary over Time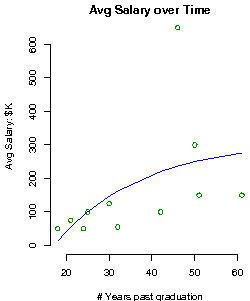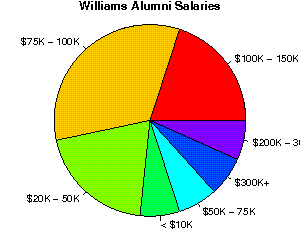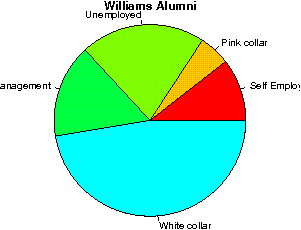 Said that Williams contributed
| | |
| --- | --- |
| 26.32% | 75-100% to their career success |
| 31.58% | 50-75% to their career success |
| 10.53% | 25-50% to their career success |
| 31.58% | 0-25% to their career success |
Had the employment status
| | |
| --- | --- |
| 10.53% | Self Employed |
| 15.79% | Top Management |
| 47.37% | White Collar workers |
| 5.26% | Pink Collar workers |
| 0.00% | Blue Collar workers |
| 0.00% | Entry Level employees |
| 21.05% | Unemployed. |
Life Satisfaction
| | |
| --- | --- |
| 73.68% | Are satisfied with their current job. |
| 73.68% | Said things are generally going well. |
| 42.11% | Are still in the field they majored in in college. |
Reputation & Preparedness
| | |
| --- | --- |
| Help from Reputation | 6.3 |
| Preparedness for Real world | 5.5 |
Most Frequently mentioned Graduate Jobs

Analyst (4), Director (4), Assistant (4), Research (3), Engineer (3),
% went on to Graduate or Professional Ed.
57.9%
"
... Follow the herd, they have collective knowledge about majors, degrees, graduate schools and employment paths ...
Read full comment
"
... Career Service is horrible (not the service, but the people working in that office) but we still have tons of IB recruiter visiting us (even t...
Read full comment
"
... If you want a normal college experience and a degree that will impress prospective employers, apply now; if you want more, look elsewhere ...
Read full comment