Western New England University
20 Alums took the salary survey
WNEU Alumni Salary over Time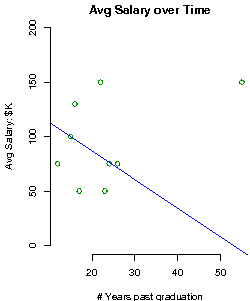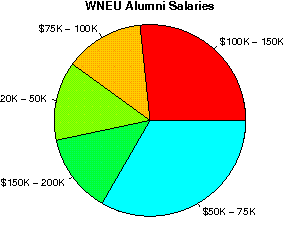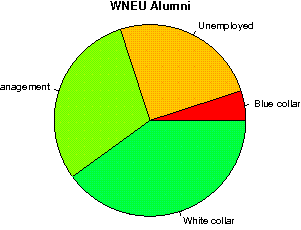 Said that WNEU contributed
| | |
| --- | --- |
| 55.00% | 75-100% to their career success |
| 25.00% | 50-75% to their career success |
| 0.00% | 25-50% to their career success |
| 20.00% | 0-25% to their career success |
Had the employment status
| | |
| --- | --- |
| 0.00% | Self Employed |
| 30.00% | Top Management |
| 40.00% | White Collar workers |
| 0.00% | Pink Collar workers |
| 5.00% | Blue Collar workers |
| 0.00% | Entry Level employees |
| 25.00% | Unemployed. |
Life Satisfaction
| | |
| --- | --- |
| 80.00% | Are satisfied with their current job. |
| 80.00% | Said things are generally going well. |
| 60.00% | Are still in the field they majored in in college. |
Reputation & Preparedness
| | |
| --- | --- |
| Help from Reputation | 7.1 |
| Preparedness for Real world | 7.6 |
Most Frequently mentioned Graduate Jobs

Auditor (11), Manager (7), Internal (4), Director (4), Policy (3),
% went on to Graduate or Professional Ed.
75%
"
... It is a school for people who want to make something of their lives and pursue academic and career goals ...
Read full comment
"
... I have the mindset that in order to be a success in life you have to be well educated and you have to partake in a career that you enjoy, and you...
Read full comment
"
... However, if you are willing to work hard and take all the opportunities you can, employers/grad schools will be fighting over you ...
Read full comment
"
... As a result, my first job after graduation was almost mid-level, resulting in a high salary ...
Read full comment
"
... From 3 years experience the computer science and engineering programs, I have found that the work is challenging and relevant in the real world ....
Read full comment
"
... My education at WNEC was instrumental in preparing me for my career in programming ...
Read full comment