11 Alums took the salary survey
WSU Alumni Salary over Time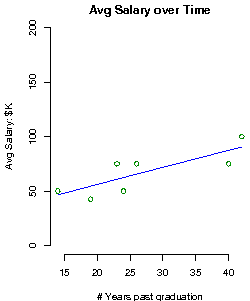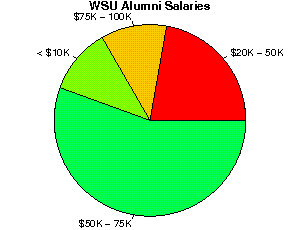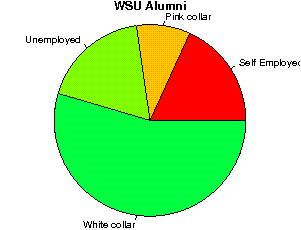 Said that WSU contributed
| | |
| --- | --- |
| 36.36% | 75-100% to their career success |
| 0.00% | 50-75% to their career success |
| 9.09% | 25-50% to their career success |
| 54.55% | 0-25% to their career success |
Had the employment status
| | |
| --- | --- |
| 18.18% | Self Employed |
| 0.00% | Top Management |
| 54.55% | White Collar workers |
| 9.09% | Pink Collar workers |
| 0.00% | Blue Collar workers |
| 0.00% | Entry Level employees |
| 18.18% | Unemployed. |
Life Satisfaction
| | |
| --- | --- |
| 81.82% | Are satisfied with their current job. |
| 81.82% | Said things are generally going well. |
| 45.45% | Are still in the field they majored in in college. |
Reputation & Preparedness
| | |
| --- | --- |
| Help from Reputation | 4.6 |
| Preparedness for Real world | 4.9 |
Most Frequently mentioned Graduate Jobs

Manager (2), Assistant (2), Prof (1), Stage (1), Engineer (1),
% went on to Graduate or Professional Ed.
57.1%
"
... The money you save by going here is not worth the career you will ruin ...
Read full comment
"
... Employers will look at YOUR transcript and how well you performed more than the logo at the top of the transcript ...
Read full comment
"
... 5) Women: Plan for careers AROUND children/family life early so you don't end up childless/unmarried in your 40's and bitter about the situation...
Read full comment
"
... GM Chrysler Ford kellogs and others are always hosting career fairs and I would highly recommend you do an internship during your junior year ...
Read full comment