8 Alums took the salary survey
WWC Alumni Salary over Time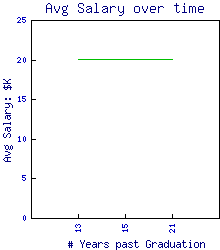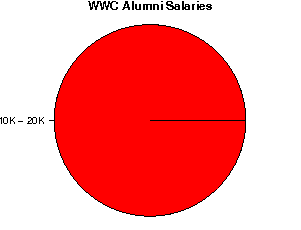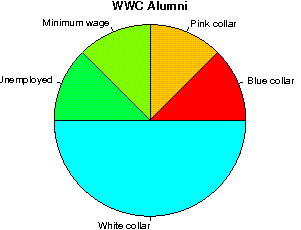 Said that WWC contributed
| | |
| --- | --- |
| 12.50% | 75-100% to their career success |
| 25.00% | 50-75% to their career success |
| 12.50% | 25-50% to their career success |
| 50.00% | 0-25% to their career success |
Had the employment status
| | |
| --- | --- |
| 0.00% | Self Employed |
| 0.00% | Top Management |
| 50.00% | White Collar workers |
| 12.50% | Pink Collar workers |
| 12.50% | Blue Collar workers |
| 12.50% | Entry Level employees |
| 12.50% | Unemployed. |
Life Satisfaction
| | |
| --- | --- |
| 87.50% | Are satisfied with their current job. |
| 100.00% | Said things are generally going well. |
| 25.00% | Are still in the field they majored in in college. |
Reputation & Preparedness
| | |
| --- | --- |
| Help from Reputation | 3.4 |
| Preparedness for Real world | 4.1 |
Most Frequently mentioned Graduate Jobs

At (3), Administrative (1), Assistant (1), Volunteer (1), Corps (1),
% went on to Graduate or Professional Ed.
75%
"
... Many students end up screwed by the career resources department and have their head too far up their ass to get anything but minimum wage jobs- a...
Read full comment
"
... Some of the jobs only exist so every student will have one, but many of the jobs are educational and beneficial for life in the real world ...
Read full comment
"
... The career service fair is a joke, its mainly summer camps looking for vocational labor, and the college offer summer jobs on their crews ...
Read full comment
"
... Soon I will be a school counselor and I can't wait to get started on that career path ...
Read full comment
"
... This place may work for substance using, environmentally conscious agriculturists, but as far as a person from the real world goes this place is...
Read full comment