Athletics/Training Salary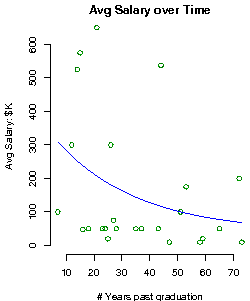 This table shows the average salary over time for the people who graduated with
a major in Athletics/Training.
Each year represents a different person, after having been out of college for x years.
Some years will have abnormally high or low salaries. This is because some of those surveyed were either more or less successful than the average, or perhaps switched to a more lucrative field.
Below is a list of alumna/e and their jobs, after having graduated in this major.
Some are available for contact.
Alumni Contact Center
5086 Alums have graciously made themselves available for you to contact with questions or for advice.
[show all 5086]


---

Pres. Of Own Co.
(Athletics/Training)
Gender: Male
Graduation Year: 1981
Still in Major? Yes
Teacher
(Athletics/Training)
Gender: Male
Graduation Year: 1997
Still in Major? Yes
Teacher
(Athletics/Training)
Gender: Male
Graduation Year: 1997
Still in Major? Yes
Sales Rep
(Athletics/Training)
Gender: Female
Graduation Year: 2001
Still in Major? Yes
Director Of Recreation Therapy
(Athletics/Training)
Gender: Female
Graduation Year: 1982
Still in Major? Yes
College Assistant Trainer
(Athletics/Training)
Gender: Male
Graduation Year: 2004
Still in Major? Yes
Xxxxx
(Athletics/Training)
Gender: Male
Graduation Year: 1972
Still in Major? No
Realtor
(Athletics/Training)
Gender: Male
Graduation Year: 1998
Still in Major? No
Realtor
(Athletics/Training)
Gender: Male
Graduation Year: 1998
Still in Major? No
Quality Control Engineer
(Athletics/Training)
Gender: Male
Graduation Year: 1950
Still in Major? No
Customer Service Manager
(Athletics/Training)
Gender: Male
Graduation Year: 1978
Still in Major? No
Field Hockey And Women's Lacrosse Coach
(Athletics/Training)
Gender: Female
Graduation Year: 2002
Still in Major? Yes
Exercise Specialist
(Athletics/Training)
Gender: Male
Graduation Year: 2011
Still in Major? Yes
Smartacle
(Athletics/Training)
Gender: Male
Graduation Year: 2010
Still in Major? No
Hostess
(Athletics/Training)
Gender: Male
Graduation Year: 2009
Still in Major? No
AMrKyIjJ
(Athletics/Training)
Gender: Male
Graduation Year: 2010
Still in Major? No
Babysitter
(Athletics/Training)
Gender: Female
Graduation Year: 2012
Still in Major? No
Head Trainer, Johnson High School
(Athletics/Training)
Gender: Male
Graduation Year: 2009
Still in Major? Yes
Athletic Trainer
(Athletics/Training)
Gender: Male
Graduation Year: 2011
Still in Major? Yes
WpxSkFpxWl
(Athletics/Training)
Gender: Female
Graduation Year: 1972
Still in Major? No
RLvLkVWtIGiqsrB
(Athletics/Training)
Gender: Male
Graduation Year: 1952
Still in Major? No
JgPHtbXoWIJnddRYdg
(Athletics/Training)
Gender: Female
Graduation Year: 2013
Still in Major? No
RqbpCyjKAZz
(Athletics/Training)
Gender: Female
Graduation Year: 1953
Still in Major? Yes
ZBtrfiWwoUlb
(Athletics/Training)
Gender: Male
Graduation Year: 1999
Still in Major? No
OORTwJLskNxAGKaMP
(Athletics/Training)
Gender: Female
Graduation Year: 1981
Still in Major? Yes
ONiDUeyxCKittSCdG
(Athletics/Training)
Gender: Male
Graduation Year: 1967
Still in Major? Yes
EiNDRJBIliLYvwMS
(Athletics/Training)
Gender: Female
Graduation Year: 1966
Still in Major? No
PMUEdYyEIpnIZKhUBo
(Athletics/Training)
Gender: Female
Graduation Year: 1974
Still in Major? Yes
INDjuPreGVdg
(Athletics/Training)
Gender: Female
Graduation Year: 1972
Still in Major? No
PyDYOCpOOFu
(Athletics/Training)
Gender: Female
Graduation Year: 1960
Still in Major? Yes
Athletics/Training Major unemployment rate

| | | |
| --- | --- | --- |
| _ | Athletics/Training | All Majors |
| Unemployed | %3 | %9 |
| Minimum Wage | %14 | %4 |
| All Others | %80 | %86 |

More: Unemployment for all Majors

*** not counting stay at home parents *** not counting those currently in grad school

Are things going well in Athletics/Training?

| | |
| --- | --- |
| Going Well | %77 |
| Not Going Well | %23 |

More: All Majors Satisfaction

??? This is a social "life satisfaction" question. Overall, would people who graduated with a degree in Athletics/Training say that their life is going well? It could be interpreted in terms of stress, salary, long hours, future prospects, etc. *** not counting those currently in grad school

Graduates who stayed in Athletics/Training

| | |
| --- | --- |
| Still in Field | %51 |
| Got out | %49 |

More: All Majors Still in field

??? A high "got out" percentage can be interpreted a couple of ways -- for instance, perhaps the major is a great stepping stone to becoming a totally different career -- like a doctor. Or perhaps the jobs one gets with the major just aren't that great. *** not counting those currently in grad school