Your Chances at ASU
(on ACT score alone)
Your Chances at ASU
(on SAT score alone)
Men

Women

# Applicants

14,512

15,259

# Admitted

12,339

13,456

% Admitted

85.0%

88.2%

% Overall

86.6%
Oct 27 2014
Computer Science
Be alive. ASU = Any Student University. Don't go here.
Female
Oct 17 2014
Linguistics
Transferred from community college. If you graduated from high school, took some sort of standardized test, and generally maintain a body temperature of 97-98 degrees, I am sure you'll get in. ASU does have a direct transfer program with the local community colleges though, and they're far cheaper than ASU so I'd recommend that if you're being forced to attend this institution.
Female
Sep 11 2014
Language - French/Spanish/etc.
I attended a community college and transferred in. It wasn't very difficult. If you're still in high school, I highly recommend doing this too. Starting out at this school from the beginning is a mistake in my mind.
Male
Sep 06 2014
Finance
Go here only if you want to live in a Police State
Male
May 14 2014
Psychology
Transferred from another university which was a HUGE mistake. University of Arizona was a way BETTER school. DO NOT GO HERE!
Female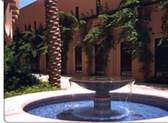 Similar Colleges by Education Quality