Apr 26 2006
Kinesiology
Anybody can get in because they want numbers. Their goals are too superficial and selfish, like trying to stay the largest University in the Nation.
SAT: 1130 Male
Apr 21 2006
Other
ASU is painfully easy to get in to. There is a rumor that they did not turn down a single person for the 2005 application.
ACT: 30 SAT: 1300 Female
Apr 01 2006
Political Science
the ASU application was the easiest application i filled out. it's super short, and very basic. i did fill out the honors college application as well, which has essays and some more in depth questions, but overall that's all you need. DEFINITELY fill out a FAFSA form, b/c ASU gives generously with financial aid...they make a real effort to provide as much as possible
SAT: 1330 Female
Dec 26 2005
Interior Design
Mostly studied and raised my GPA and ACT score. It took alot of hard work considering personal issues.
ACT: 20 Female
Aug 01 2005
Art & Design Department
all i had to do was send my GPA of 3.2 & my act score of 27 and i was in. they seemed so desperate, i should have taken that as a warning sign.
ACT: 28 Female
Jul 21 2005
English
Just apply. If you can muster a 2.5 OR a 1100 on the SATs, you'll be fine. You can even score scholarships with a low GPA. Even though there was some debate about raising the minimum requirements to get in, the school wants to make money in any way possible, and thus wants your tuition money. You'll make it.
SAT: 1360 Male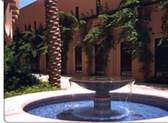 Similar Colleges by Education Quality