Feb 14 2005
Communications
It is fairly easy to get into, as long as you have a 3.0 (hs) and you have to have four years of math in HS (my HS only required 3). Transfer GPA is a 2.5.
Female
Nov 30 2004
Unknown
I heard the engineering program was good, so I applied. This school is very easy to get into but then they attempt to weed all the stragglers out. You dont have to do much to get in, our Dean just wants the money :(
SAT: 1200 Male
Sep 14 2004
Aerospace Engineering
There remains one lone option for students to get involved with. The AIAA program, with it's affiliation to Daedalus Astronautics. Self run, students design, manufacture and qualify high altitude rocket systems.
Male
May 14 2004
Political Science
It's fairly easy to get into ASU, however standards are rising. The university admits most students, esp. if you are from Arizona. However, the dumber ones drop like flies within the first month. If you have an SAT of 1150+ and were in the top third of your high school class, you are fine. Also, ASU is very generous with AP. You need a 4, but they don't cap the number you can transfer.
SAT: 1240 Male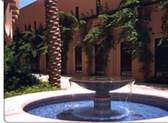 Similar Colleges by Education Quality