Jun 18 2003
Political Science
To get into ASU have high decent test scores and decent grades. Admission standards are getting tougher, but its still not super hard.
ACT: 26 SAT: 1290 Male
Apr 19 2003
Business - Management and Administration
Just do well in school and u should be fine. The admissions dept isnt too tough but they dont accept everyone so as long as ur a fairly good student u shouldnt worry. Have fun and dont party too much or u'll get kicked out
Male
Nov 15 2002
Biology
ASU is pretty easy to get into, so I will not make any general recommendations. However, I will say the many people who apply to the honors program drop out, because of the work load. If you apply and get in, you may want to consider if it is right for you.
ACT: 32 SAT: 1550 Male
Nov 04 2002
Undecided
I did absolutely nothing to get into ASU, im a C student. Didnt even have to take SAT's
Female
Jul 30 2002
Computer Engineering
I was a good student in high school, had a lot of solid work experience that was related to my major, and am technically from Australia, so I think the combination of grades and experience helped me get into the college. But don't worry too much, ASU is selective, but not nearly as selective as the Ivy Leagues. Which makes it all the more accessible. I would hate to attend MIT or Stanford, most of the kids there have been spoilt beyond all belief. ASU's tech transfer program is better than those colleges' programs anyway. ASU is only getting better. MUCH better.
Male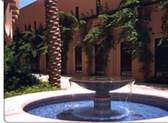 Similar Colleges by Education Quality